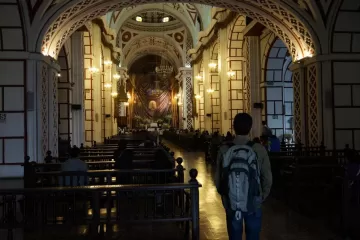 This day was a free day until 2:00 and we all decided we wanted to go back up the hill to M-P.
Will and Brent had passes to go up to Huayna Picchu and please note that the queue to get on the trail can take up to an hour to get through. Another check of the passport.
Nancy and I thoroughly enjoyed some free time on the mountain and looked for remote places to just sit and BE STILL! We could have really stayed several more days just to experience the atmosphere of the mountain. On the back side of the ruins, we watched two falcons work the hillside for dinner.
Around 2 PM we headed out, turning and giving one last look to this magical place. Boarded the train for the ride back to Cusco and we were entertained by a fashion show of local products. We then transferred over to a bus for the last half of the trip. It was night when we arrived back in Cusco, weary from the ride back, but it did give us time to absorb what we had just seen.
Supper that night in Cusco at a little restaurant called Marcelo's about a block from the hotel. Again, the food was just very good value.
Concerns: By this time, we were completely at ease in this country. Enjoying the scenery, weather, and mostly the people.
Tidbit: Every time we asked a street vendor who made their product, they always answered their family, even though they were obviously selling a mass produced item. I guess selling techniques wherever you are in the world might stretch the truth a little.
Altitude: Coming back up to Cusco at 12,000, we had no problem this day.
Highs: Sitting with my lovely wife of 30 years on a spectacular little terrace on the hillside of M-P while our two sons were happily climbing rocks and exploring Huayna Picchu !!!!
Lows: Maybe the last leg of the bus ride back to Cusco, but that would be real picky. Just sad we had to leave Agua Calientes.