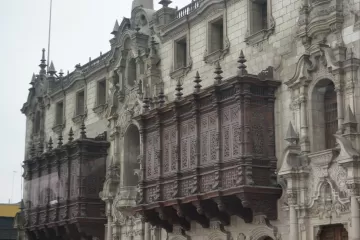 Morning came, and with it breakfast. This was included in the room, as were all breakfasts. However, after breakfast, 2 of us went back to bed!!!!
The other 2 went out exploring. Just a couple of blocks from the hotel, was the Mira Flores mall, a very western style setup with many American chain businesses, including Chili's and KFC.
There was also a dog show of sorts going on in the park there, with a very festive atmosphere. We took KFC back to the room for the other 2 for lunch.
After lunch, we had a bus tour of Lima lined up, which picked us up at the hotel. Very good quick overview of the city, that took us all the way to the colonial district. Definitely glad we did this.
That night, we walked back over to the mall area and ate supper overlooking the Pacific, watching all the surfers. Meal was delicious and we tasted our first pisco sours.
Concerns:
Safety in the city --- not a problem in M-F
Food --- VERY good and available at the mall. Price was very reasonable, as most expensive thing on the menu was probably around 20 dollars.
Language --- still not a problem.
Money --- every place accepted dollars, but as the reports said, looked at each one very carefully.
Highs: Eating overlooking the Pacific
Lows: The party happening until 4 am outside our door at the hotel. AARRRRRGGGGGHHHHH. Also the grey haze over the city which they said was there most days. Reminded me of San Francisco.