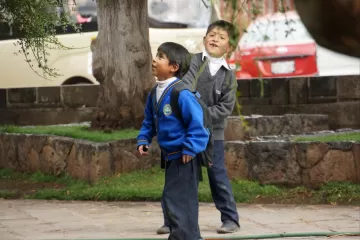 This day was a free day in Cusco, and we opted for a short horse back ride. Teddy had arranged this for us, an a van and a young guide named came and picked us up at the hotel.
Just a short ride (15 minutes) up the hill and we arrived at the OK corral. We have a lot of these type things in the Smokies, so I guess we knew what to expect. The interesting thing here was the local breed of horses. Small, but well adapted to the rocky, hilly terrain. They weren't however going anywhere except their trail they went everyday! lol That was alright with us, as they took us to some interesting ruins right above the city.
This was a place that our guide had literally grown up in, saying his family use to camp on this site in the summer time. Now a recognized archaeological site. Interesting history here about ''sexy woman'' and how the Incans subdued the other peoples of the area.
Fail of the Day: Another group of riders (there were several here ) had just mounted their horses for the ride back, and decided they were going to get on their horses for a little bit. They started off like they were in a Gene Autry movie, at breakneck speed, kicking and whoopin' and hollerin'. Well at about 50 yards , one of the girls fell off going all out, and nearly pulled a Christopher Reeves. Although she really didn't hurt much more than her pride, she landed about a yard away from a large piece of Peru granite, and her Maker. I don't think any of our little ponies had anything like this in them. They were too busy fussing with each other on who was going to be first in line getting back to the barn.
Highs: Well we did enjoy being on our horses. It was fun.
Lows: Watching that girl almos buy her ticket to Paradise.