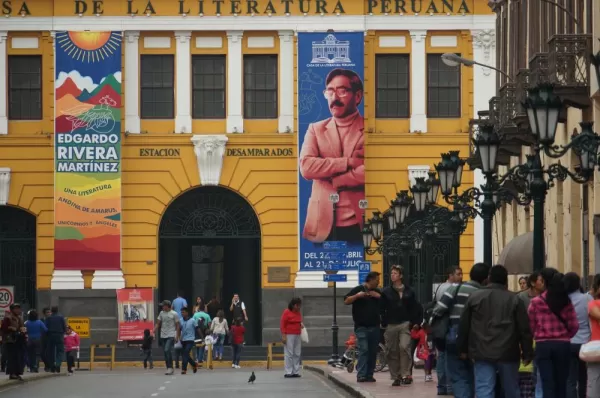 Around 7:30, Teddy and our driver Eduardo, arrived at our hotel door carrying our traveling companions, Mario and Betty, ready to take us towards the Sacred Valley. There was not really any one else to meet, as Mario and Betty were the entire rest of our group. That was one of the main reasons we picked a company like Adventure-Life!
Mario and Betty spoke fluent Spanish, as they were Cuban exiles, but the entire group was kind enough to always speak in English when us ignorant hillbillies were around. Thank you guys.
Off on the van for about an hour and a half, to our first stop of the day, the town of Chinchera. A beautiful ride through the high plains of Peru with snow covered peaks of the Andes all around. Just as you would picture it.
We stopped at a little courtyard right outside the town for a demonstration of traditional methods of weaving, starting with an alpaca hide and taking it all the way to a blanket. This was given by the local women whom our guide told us were the purest descendants of the Inka people. Loved It!
On the the village, where we really saw our first glimpse of what was to come regarding Incan ruins. This little village was very quiet when we were there. I think this was in part due to the fact that Teddy (our guide) really had us out early to beat a lot of the tour buses behind us. We really liked this approach.
Then on to the pits of Moray, which was found down a dirt road. As we were in a van, not a bus, Teddy took us the short cut away from here to Ollantaytambo. Very interesting history here where Incas and Pizzaro's band of merry men went at it.
We stayed here for the night and had a very comfortable room with views of the temple right outside our window. Great little town serving these amazing sites with small cobblestone street and little shops. Good meal at a cafe run by a British woman and again' very good and very reasonably priced. Will and Brent had time to hike up the side of the mountain that afternoon so we were all a little hungry.
CULTURAL HIGHLIGHT OF THE DAY. It was the season for Corpus Christi in the Catholic Church, and there was a big parade in the town square with one of the families' icons being paraded around the square. This included many many authentic dance groups and highlighted by the icon itself. As a juxtaposition I suppose, I also witnessed a flaming cart carrying a heavily costumed man that looked like it could have come from somewhere deep in Haiti. Also saw my first roasted guinea pig here, as about six of the little baked buggers went by me on a platter!
Concerns: First real time with Teddy, and our traveling companions Mario and Betty. Quickly learned that this was a strength instead of a concern. We did very well as a group and really enjoyed their company. Perfect match!
Highs: That flaming cart. I've never seen anything like that in the hills of Tennessee. And I've been to a hawg callin'!!!!.lol
Lows: Just a little tired, but no real low this day. We all expressed how the small towns just kept getting better. Lunch a little later than expected. Take a snack.