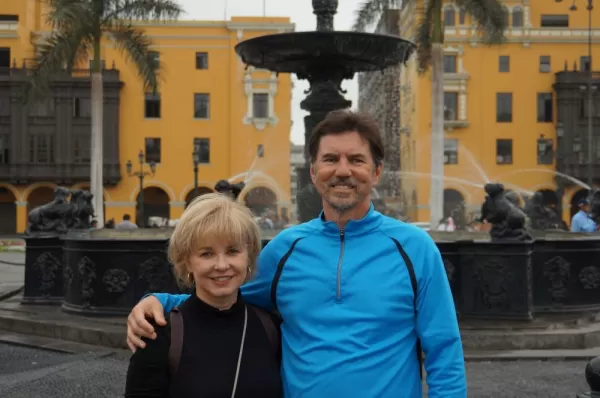 We had a taxi arranged by A-L waiting for us the next morning, taking us to the airport for Cusco. About 30 minutes back to the airport.
Line wasn't too bad at the airport. We were flying LAN airlines. Security not quite as tight as US but adequate. Plane ride to Cusco beautiful as we were flying over the Andes. Out the right side of the plane, were the lower mountains, and it looked like flying over some California mountains. Virtually no trees. On the left side could be seen the snow covered peaks as expected from the Andes. About a 2 hour ride.
Easy egress from the airport, and outside was waiting our guide for the week, Teddy. We got all our luggage in the van, and up the hill to the main square of the old town. About 15 minutes with traffic. Our hotel, Ruinas, was a block from the main cathedral. After getting settled for a few minutes, we met Teddy and he took us to the square and showed us around: where to eat, exchange money, etc. and we had the rest of the afternoon to explore the city.
We walked to the other 2 squares and the market, and ended the night eating at the Inka Grill on the square, one of Teddy's recommendations. EXCELLENT CHOICE! We had alpaca, ceviche, and other local dishes. Always with potatoes, lol. The alpaca was tenderloin and was delicious.
By night we were struggling with altitude. We ended up with 2 cans of oxygen that they sold locally, and made it thru the night. Headaches mainly, and just general malaise, and of course a little winded.
Concerns: Safety --- absolutely felt safe in this part of town.
Money --- easy to exchange almost everywhere we went. They said the Global ATMs did not charge fees.
Food --- again, available, affordable, and delicious
Altitude --- manageable
Weather --- perfect. Around 70 degrees, but cool quickly at night (5:30)
Highs: Just being in the center of the Ancient Incan culture
Lows: VERY VERY aggressive street vendors. Really weren't able to just enjoy any still time, as was constant barrage.