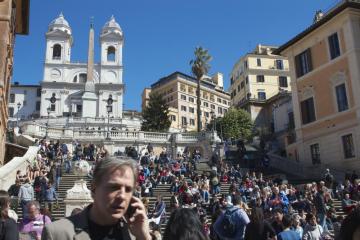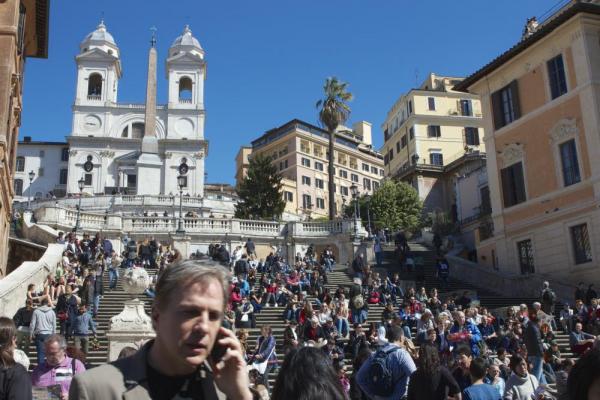 A photo workshop has been my long-held dream; a photo workshop in Rome was over the top - for me. My husband will tell anyone who asks that he has taken 12 pictures in his entire life - the limit of a roll of film in a Brownie camera. So, on this trip, I am solo.
Traveling from Seattle is almost 20 hours - a good excuse to book a hotel car. I drag out of customs ready to be catered to, but: no driver holding up my name - not even a credible misspelling of my tangled Dutch name. Time to get Euros and call the hotel. Four uncooperative cash machines later, I have to accept defeat: I am not going to use a payphone to the hotel. iPhone to the rescue: used my data connection to add international calling and I am on my way. And, I have successfully managed to elude the money-changers. I would actually rather give the money to my wireless carrier.
Tired as I was, the trip into town was a wake-up call. Nothing prepared me for Rome - not Tuscany, not Paris or any other European icon, not even the guidebooks. Two thousand plus years of history and architecture are everywhere in the city, and what is newer does not look new. It all fits. It all glows in the rising and setting sun -- like no other place I have ever seen. I have come to the right place.
We were nine workshop students and three instructors lodged in a gracious five-star hotel close to the Spanish Steps. Our instructors - two experienced National Geographic professionals and a delightful innkeeper/photographer/former dancer from Tuscany - were equally gifted in choosing sites and helping us to see and photograph them. Exactly what I was hoping for.
We assembled as a group for the first time in the late afternoon, meeting to register, then going out for a companionable dinner at a local trattoria. The usual sorting out of vegetarians, and beer, wine and water drinkers. Twelve people with very personal views of what belongs on their plate - but no one goes hungry - or thirsty.
We students, all from the States, were fairly evenly matched in terms of experience and equipment. Most of us dozed through the arrival day, brought our cameras to the registration area for a check-in before dinner, and were more interested in eating dinner than shooting. Arrival days' pictures: zero. Fortunately, it didn't stay like that.