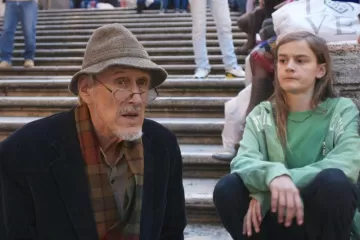 The entrance to the Ghetto is through the Portico di Ottavia, built by Augustus for his sister; a ruin full of columns and remnants of walls and buildings, some incorporated into modern structures. The ghetto itself is both an historic and a living neighborhood, like so much of Rome. There is an active synagogue, a solitary plaque marking the deportations of 16 October 1943, an intriguing collection of cafes and small shops, and courtyards open to exploration.
By now, I am at a total loss about how to deal with Roman cash machines. The hotel concierge and I have tried several. My companions point them out - we are always on the hunt. I even check with my bank about my card. I am Euroless for two or three days and out of dollars to exchange. Thinking silently about how to put the bite on my newfound friends. I finally find a very few that have the right symbols - only to learn that they have limits on weekends. Why is it so much easier to put money in a bank than take it out?
From the Ghetto, we walked along the Tiber and crossed into the Trastevere, a narrow set of streets, medieval houses, and the fine Santa Maria in Trastevere, not as grand as some other basilicas in Rome, but filled with decorative detail - an intimate setting inviting contemplation. An outdoor lunch on our own. A very jolly waitress - no other word for it. If you want to work with tourists every day, I am sure it helps to have a sense of humor - she clearly had worked that out. And there were roaming street musicians, too. I wonder if they minded that I preferred the photo op to their playing.
On this and other days, we had workshops back at the hotel, which worked like this: everyone chose 15 ''best'' photos of the day to review with an instructor. A final ''five best'' selection was shared with everyone on a projector - and included the instructors' own best five. The real learning tool was seeing how others - instructors and students alike - shot the same thing I was photographing. Seeing how others viewed and composed the same scene with a completely different result opened my eyes.
I often chose for initial review five of my best and five of my most disappointing, asking why they didn't turn out as I expected. Very helpful feedback. On this trip, I finally learned how to master my camera manually.