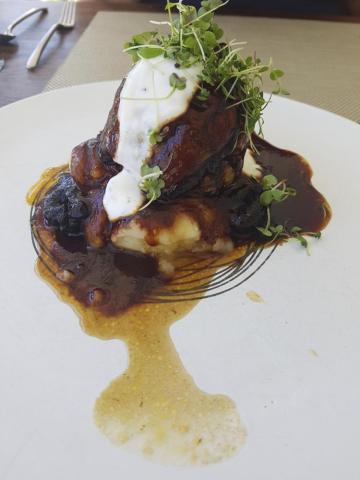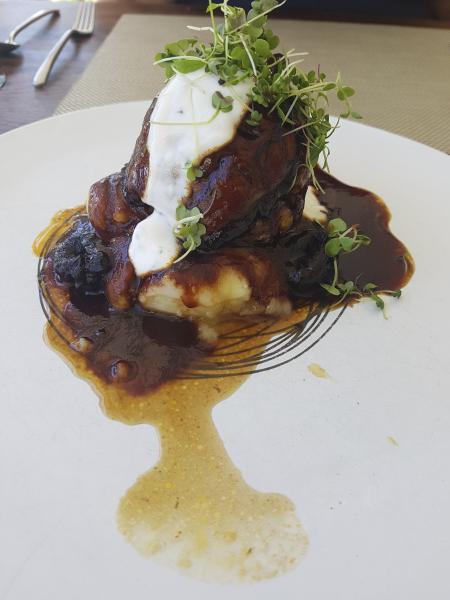 I'm not a foodie by any sense of the word, but Cape Town may have done its part in convincing me that I need to become one. From a serious coffee culture, to foodie markets and world-class restaurants, Cape Town is quickly rising to the culinary capital of Africa. The cuisine is a mix of Cape Malay, South African and Indian, tastes from around the globe seamlessly come together to create a uniquely Cape Townian flavor.
Three meals stand out in particular, and the first of which was the day my mom finally joined me in Cape Town. We ventured to the touristy V&A Waterfront neighborhood, excited begin our travels together. We selected a restaurant just outside of the V&A Waterfront Hotel, enjoying the commotion of this lively area, where musicians proudly showcased their music, street artists organized stunts of various degree, and hundreds of tourists wandered aimlessly, all beneath the picturesque backdrop of Table Mountain. We ordered glasses of Cape sauvignon blanc and a tray of fresh oysters and zesty ahi poke, taking it all in.
The second meal was at Cape Town's Harbor House, situated along the Cape Point Peninsula toward the Cape of Good Hope. This sea-facing restaurant was famous for its fresh seafood, and we enjoyed Malay-fusion grilled calamari, grilled whitefish and, of course, more sauvignon blanc. And, finally, my favorite restaurant in all of Cape Town: the Black Sheep. The Black Sheep is located on Kloof Street, the lively main boulevard of the Gardens Neighborhood. I liked Black Sheep because it was a no-fuss, no-frills sort of place with a complete focus on the cuisine, not the décor. The place was packed, and we had to arrive early even with a reservation. The rotating menu is displayed on chalkboards situated around the restaurant, and we selected their famed fried asparagus appetizer followed by the hanger steak and sticky pork belly. Other notable dishes include South Indian Yellowtail coconut curry, roasted pork shoulder with braised red cabbage and lamb with yogurt tahini.
And the best part about the culinary scene? Most of it is relatively affordable, by US standards, and you can enjoy a world-class meal without breaking the bank.