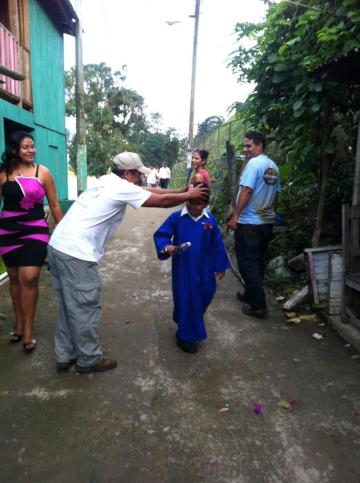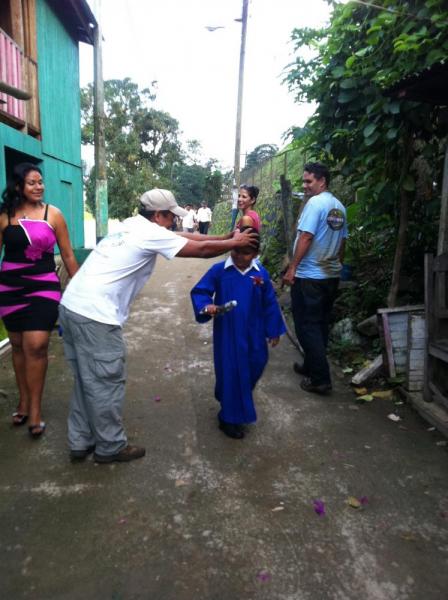 Amazing day!! We took the boat down the river even further to the Indio Maiz Reserve were bored looking young army guys meet our boat at the dock for what will be the first of many checkpoints with army stations.
Nicaragua is trying very hard to insure that no drug trade can make it through their river waters and also trying to preserve the natural environment to develop eco tourism. Everyone we meet on the river is thrilled to see us visiting, anxious to share their knowledge with us and delighted that we want to learn more about the habitat there.
We can't even count the variety of birds we see, along with a jaguar foot print, a large snake and a Paca (a large brown rodent like pig sized animal) but then have to debate whether we saw a Paca or an Agouti which is a similar animal.
Hope pulls a princess move and manages to get her boots washed for her while the rest of us rinse our own mud off. When they said the mud would be up to our knees they were not exaggerating.
We take a side trip up the Bartolo and stop for a swim. The current was stronger and the water colder than I thought but it felt great. On the way back we saw two caymans including one up close that was very large and stayed still and a small one that almost got Hope to jump out of the boat when it lunged forward as she was looking at it with binoculars.
While we return to our hotel, we see lots of small children in bright blue graduation caps and gowns all over town as it is kindergarten graduation day. Their families are dressed in formal wear as well and everyone looks beautiful. We see the large blue and white graduation cake go by and wish we were invited to the party for a piece!
Tonight is our cayman night tour which at first they tell us is not going to happen since the army has closed the river to night traffic, but we end up with a permit to go, so long as yet another young military officer with a large gun joins us in the boat. Our guide Juan literally somersaults out of the boat and comes up with a Cayman in hand that we all hold for a photo op. We see lots of Jesus lizards which are neon green and walk on the water too.
Our guide says Hope drinks so much water she should live in an aquarium when she is on her third bottle at dinner. To our amazement, the family owned restaurant where we have dinner has saved us some of the graduation cake---they must have heard us talking about it! They all laugh when they serve it.