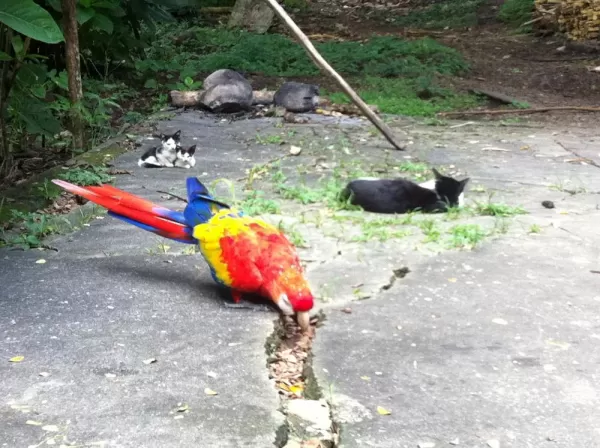 After our action packed day yesterday, we sleep a little later and then Hope and I head to the butterfly farm where the owner puts out large pieces of fresh papaya and other fruit. Huge (I mean the size of my head huge) moths and butterflies are all around us, as well as two beautiful hummingbirds that have managed to get into the farm. The owner explains the stages of life and how the butterflies hatch.
We pack up to leave and are amazed to watch people moving a herd of cows across the river that has a very very fast current by tying them onto the sides of the small boats and swimming them across. Needless to say the cows are not happy as only their heads remain above water as they are towed along the sides of the boat. I can barely watch for fear that the cows heads will go under.
We take an uneventful boat ride to the Sabalos Lodge which is very jungle like and we are met with fresh squeezed lemonade and led to our Casita which is open air enough to make us all become even closer friends-too much information!
We nap in our individual hammocks on our riverfront porch, and then head out to kayak. It pours right before we are to put the kayaks in the water so we wait for a clearing and have two rain free hours of kayaking through the tranquil river past Sabalos town. We see lots of Kingfishers and other birds and when I push my paddle off the short at one point a small cayman I disturbed jumps into the water and I am ready to jump out of the kayak. I don't think I'll swim here.