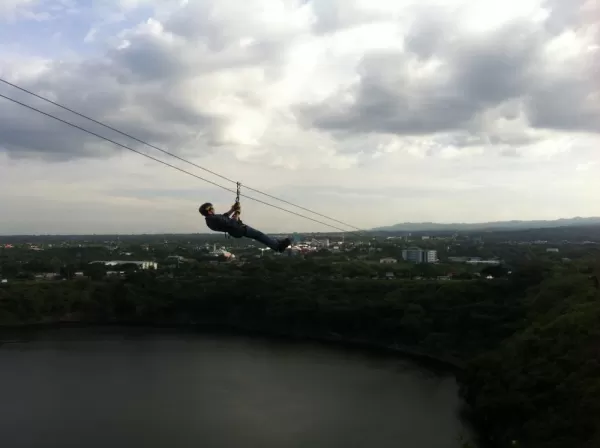 After Hope and I travelled to Nicaragua in March, 2012 with Adventure Life, we could not wait to go back and this time, we brought Andy along with us, making us ''Un Hombre y Dos Mujeres''!!!
We arrive in Managua and take a short tour of the city. Andy takes the zip-line down from the Parque Historico Nacional Lona de Tiscapa with its large (I mean huge) Sandino silhouette style statue. It's a quick descent from the top to the shore of the lake (Volcan Tiscapas crater lake) so we miss him pretending to be superman mid ride but watch him take off and land.
The City is amazing in that portions remain as they were following the impact of the last earthquake, while other sections are clearly updated and very metropolitan.
Purisima is going on and we drive by rows and rows of the shrine like structures families and businesses have erected and decorated elaborately for the festival.
Our room at the hotel Los Robles is great---beautiful indoor courtyard and pool. After a wonderful dinner at El Garabato ---a whole fish washed down with aged rum and soda we head back to the hotel and fought to stay awake past 8pm given our early morning flight but we sat outside and enjoyed the balmy night until bedtime.