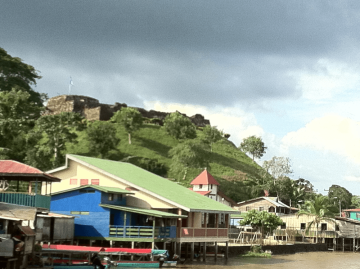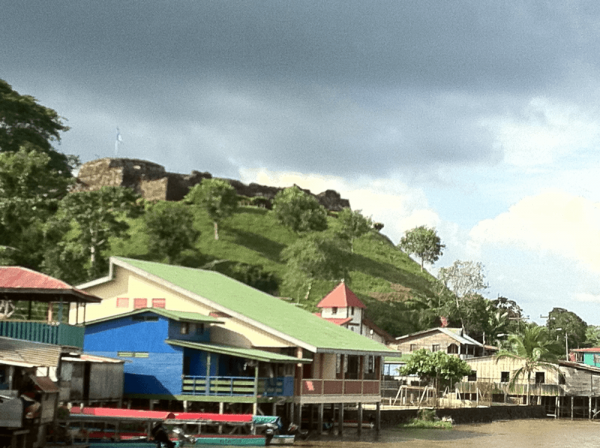 We're up early for a beautiful breakfast then off for our long van ride to San Carlos. We stop at a roadside fruit stand and have fresh coconut water right out of the coconut---not something I can get in Maine on a regular basis! I admit it, I also bought a whole watermelon (my favorite fruit) and very strange looking candy for the ride.
A policeman with an AK 47 makes sure our bathroom stop along the way is safe for us. It seems a little ironic. Somehow here you just go along with the occasional thing that at home would make you run for the hills.
We have amazing whole grilled fish for lunch in San Carlos and meet our boat on the Rio San Juan. We hit a bad rainy patch and cover up entirely in blue plastic slickers held even over our faces to stop the torrent of rain from hitting us but we still manage to see 3 kinds of monkeys, many birds and a sloth!
Andy and Hope amuse themselves by trading sightings of things they claim to see on the river that the other one missed including a gorilla in the mist and a mermaid. We also decide we need nicknames for ourselves on the trip and I somehow become the Laughing Falcon which is a bird with a big blonde head. Hard to argue with that one I suppose.
The Holiday of Purisima is still underway when we arrive at El Castillo and everyone in the town walks to visit the shrine set up by one family where candy is given to the children so we walk up and watch the action. We don't exactly blend in, but everyone treats us warmly.