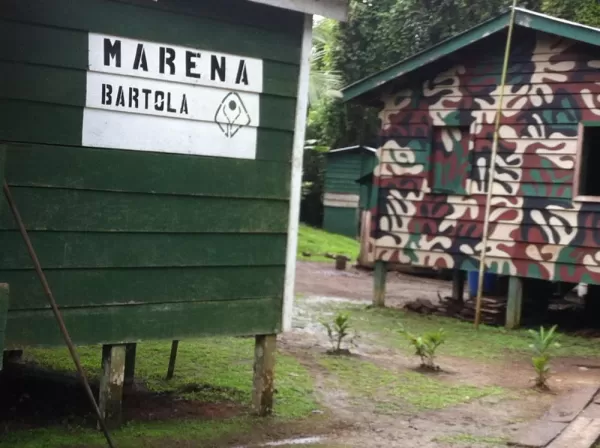 Ever since our first trip to Nicaragua, Hope has been dying to go to Solentiname. We figure we are never going to get closer to those islands than we are now, so we arrange a boat trip there for the day.
We leave early in the misty morning with jelly sandwiches and a thermos of coffee and it stays humid and misty until the sun breaks through. Andy has an egg sandwich in San Carlos at the McCafe (no, not the one you are thinking of). There are several stops for military permits along the way.
We pass by an amazing island that is entirely protected for birds. Their noises are overwhelming. The trees are chock full of large nests on almost every branch. We see migratory formations flying overhead with nesting material in their beaks for as far as we can see. My favorite was the Spoonbill with their big beaks and their bright salmon bodies. Hope loves the yellow and rust colored Jicana bird and tried to photograph it so she can make an outfit at home from similar colors including a yellow clutch purse she already has! Art imitating nature!
We travel up the Los Guatuzos reserve of wetlands and I am so glad we took this long side trip. The river becomes so narrow that the amazing birds are on both sides of us and very close to the boat. We spot a beautiful Tiger Heron. We stop to watch large iguanas in the trees, including two males up close wiggling their wattles at each other in a territorial dispute. The males are salmon and brown and the females are lime green.
We make it to Solentiname (which by now we have learned to pronounce) and watch the Montezuma Oropendulo birds making their incredible show of whistling then almost turning upside down on the branch as they bob. A bright Macaw was walking around and preening while the resident cat looked on and simply ignored him.
We stop at home galleries to see the balsa woodcarvings and primitive paintings for which the island is so well known but they have had a large art show recently and are low on inventory. We do watch an artist carving from the large but light wood.
True to form, it pours on the way home in the boat.