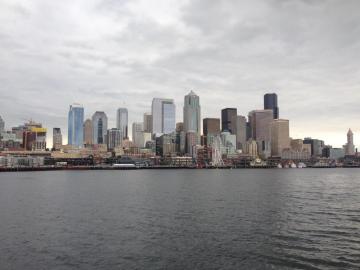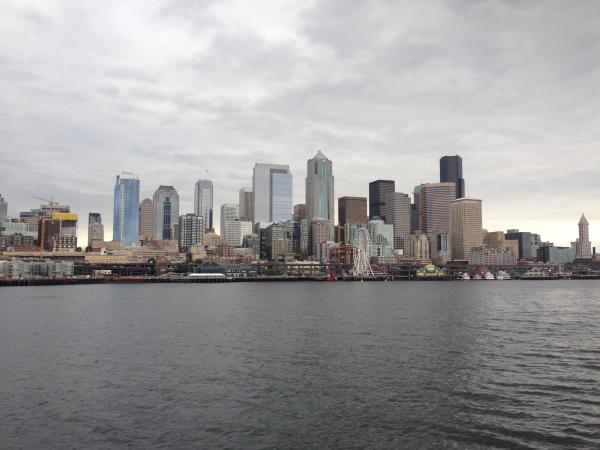 How do you prepare for a weekend (or a week) on a ship?! Will I get seasick or will I be a salty sailor primed for a life at sea? The weather says rain but I'll still need sunscreen. Should I sing sea shanties while packing? Yes. I thought and did all of these things. Why? Well, I was preparing for a two-night cruise up to the San Juan Islands with Lindblad Expeditions! I was beyond excited to learn more about Lindblad's amazing programs, boats and relationship with National Geographic. I was even more thrilled to bring my Mom with me on this weekend adventure. She happens to live on Whidbey Island (just south of the San Juans) and I couldn't resist a chance to go home and balance work and play as well as to spend time with my family. Don't worry, Dad. We'll run away soon. :)
She and I met about an hour before embarkation at Pier 69 in downtown Seattle. After a quick walk together in Olympic Park with views of the marina and Space Needle to catch up, we stood in line with fellow friends and staff of Lindblad Expeditions to embark. Our luggage had already been placed in our cabins and left us free to explore the area without any worry of dragging our belongings up the steep streets of Seattle.
We started introductions with one other as the gates to the pier were opened. In a matter of minutes, we were greeted by the staff and Captain of the Sea Bird. Once whisked inside, hugs, handshakes and champagne welcomed us on board. Hardly a minute before we were presented with some of the tastiest hors d'oeurves I have had in a long time: Chicken Empanadas with whipped avocado spread, Lox and creme fraiche with chives wrapped in a cone shaped cookie, crab cakes and freshly chopped ceviche with pineapple salsa. I wanted to eat SO much more but I knew dinner was soon to follow. First lesson in cruising: there will be lots of food...all of the time.
An hour or so was spent getting to know one another, sharing stories, our workplace and hopes for the weekend. Lindblad staff eventually quieted us down for introductions and thanks for joining them for the weekend. After a presentation of Lindblad's exciting new expeditions and hopes for the future, we met our Expedition Leaders for the weekend. They all shared brief stories of their lives, how they found Lindblad and what excited them most for the upcoming season. They said the next best part the evening was up next: Dinner and Dessert! A wonderful meal was presented before us. I chose the Black Cod with whipped butter and potatoes with pan-seared fiddlehead ferns. Boy, it did not disappoint. Living in Montana, I find I have more cravings for food from home and this certainly put my craving to bliss. Our table was just lovely and full of stories, both adventure and daily life. I even met a woman who lived in Ronan for a summer who shared my love of the Mission Mountains. The meal wrapped us and we entered back into the harbor to dock as some of our new friends would not be joining us on the full cruise.
We said our farewells with smoked rhubarb panna cotta and went to our rooms to rest for tomorrow's adventure.