As part of the United States of America, we may take for granted the rich and distinct culture of Alaska. Ancestors of the Alaska Natives are believed to have migrated into the area thousands of years ago then never moved any farther south. Throughout the Arctic and northern areas, these people established varying indigenous cultures. Tlingit, Haida, and Inupiaq are just a few of the various indigenous groups of Alaska.
These migrants had to develop sophisticated ways to handle the challenging climate and environment. Eventually, their cultures rooted deeply in Alaska. Native Alaskans are also defined by their specific languages, setting them apart from other Native American groups. Cultural bonds are still influential and apparent in Alaska today, making the state characteristically unique. Learn more about this unexpected culture on an
Alaska cruise
.
The Alaska Gold Rush was a migration of an estimated 100,000 prospectors hoping to strike it rich. The journey proved to be extremely difficult due to the remoteness and harsh weather. Only a small percentage of the prospectors actually arrived to the area, and the majority migrated in vain with only around 4,000 even stricking gold.
This rush of people resulted in the establishment of many Alaskan communities. For example, its location on the Chena River made Fairbanks an important supply post and eventually a mining center when gold was discovered north of town in 1902. Major gold mining operations continue in the Fairbanks area even today.
Different types of mining have historically shaped current day Alaska and its settlements. Minerals, such as gold and copper, continue to be discovered in the region. Therefore, the industry remains a major influence on our 49th state and its people.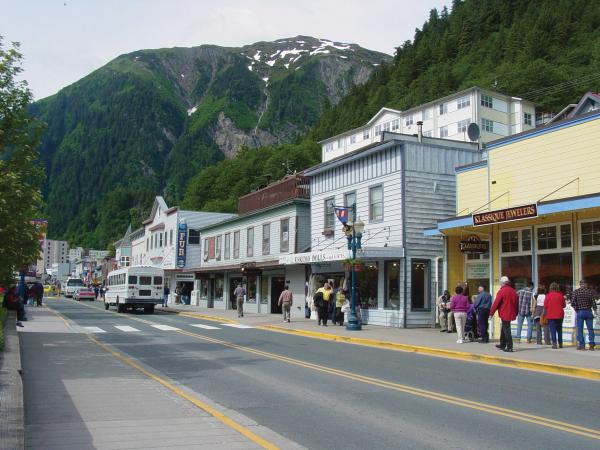 Juneau: The location of Alaska's first big gold strike in 1880
Land visits throughout a small ship cruise grant opportunities to watch totem poles being made, have conversations with residents while bellied up at a local cafe for lunch, learn more information during guided tours, and observe native traditions as well as everyday life. Hostorians share intriguing stories about Alaska through lectures for cruise guests. These are examples of intimate experiences travelers get during a small ship cruise. Ready to
explore Alaska
?