Have questions? We're here.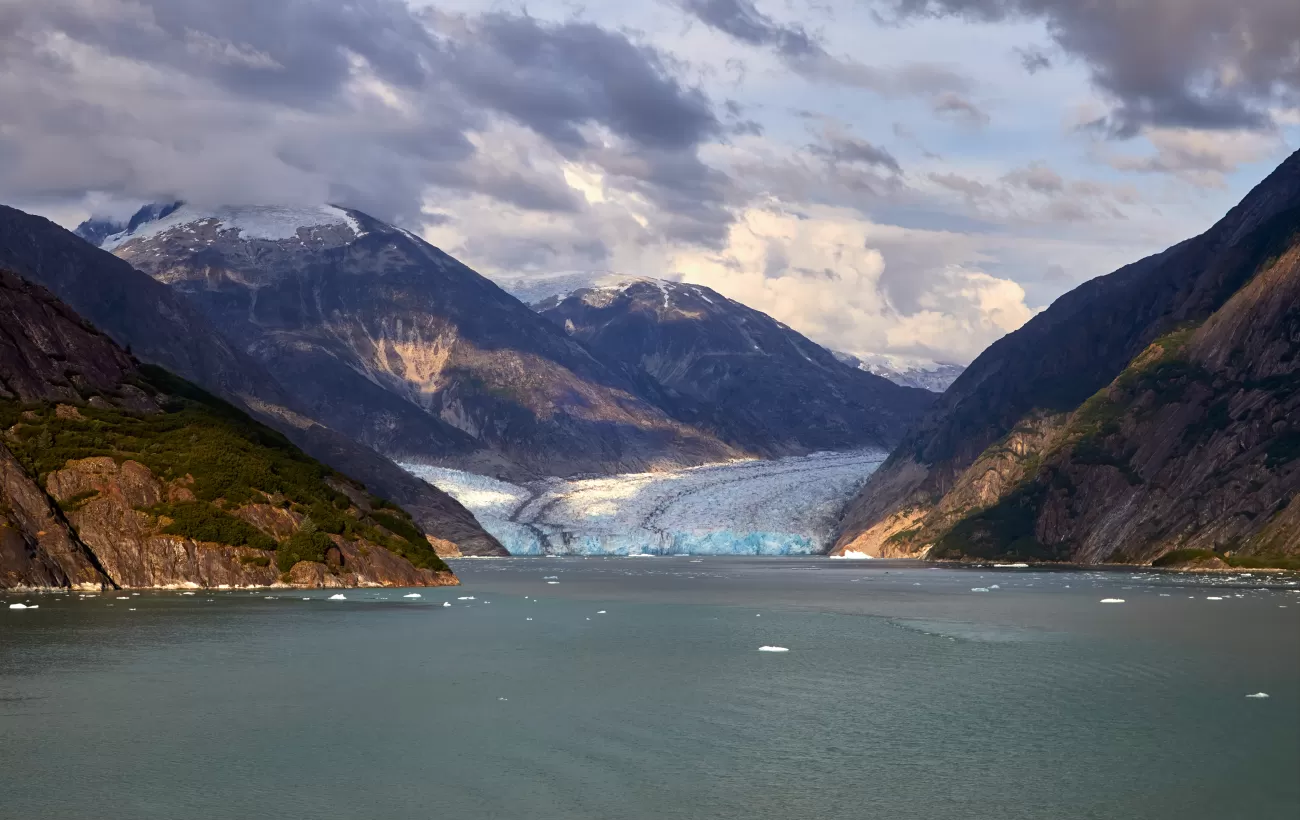 Endicott Arm Cruises, & Tours
Travel made your way ™
Take a small ship cruise with Adventure Life to Endicott Arm, located in southern Alaska. Endicott Arm holds snow-covered mountains, massive glaciers, and drifting icebergs throughout. Ride through Endicott Arm in the comfort of an Adventure Life cruise ship like the newly refurbished Safari Endeavor, the luxurious SS Legacy, or the high-class megayacht, Le Soleal. If tides are right, you can slip into Fords Terror, with half-frozen waterfalls throughout. At the head of Endicott Arm is Dawes Glacier, a large tidewater glacier that is truly an amazing sight. The wildlife that's likely to be seen in Endicott Arm consists of humpback whales, bald eagles, mountain goats, gulls, tons of harbor seals, deer, bears, and if you're lucky, wolves. Contact Adventure Life's travel experts if you're interested in taking a luxurious Endicott Arm cruise today!
9 Top-Rated Endicott Arm Small Cruise Ships for 2023-2024
Ship Name
Max Passengers
From
Summary
Chichagof Dream
74

$

4095

The sleek Chichagof Dream was recently renovated and makes its inaugural voyage in 2016. Accommodating up to 74 passengers in 37 cabins, the ship …
Safari Endeavour
84

$

5900

The newly refurbished expedition vessel Safari Endeavour's three decks provide ample outside viewing opportunities and relaxing public spaces for …
Admiralty Dream
58

$

3895

The 58-passenger Admiralty Dream is a small ship with a shallow draft and stately pace of cruising so that nothing will be missed in the narrow …
Baranof Dream
49

$

5670

On the Baranof Dream, experience warm yacht-style cruising surrounded by knowledgeable, genuinely friendly staff and accompanied by interesting …
Le Soleal
264

$

5260

Cruise the polar regions in luxury aboard the Le Soleal. This small ship carries 224 passengers in luxurious accommodations with first class …
Safari Quest
22

$

9800

The Safari Quest provides guests with intimate adventure experiences, comfortable staterooms and public spaces with ample room to get away from it …
Wilderness Adventurer
60

$

3900

Wilderness Adventurer is an expedition ship capable of nimble exploration through nature's most dramatic hideaways. Offering her 60 passengers an …
Wilderness Discoverer
76

$

3900

Wilderness Discoverer is an expedition ship capable of nimble exploration through nature's most dramatic hideaways. Offering her 76 passengers an …
Ocean Victory
196

$

5379

Experience an innovative design that brings a new level of responsible travel. Built for exploration in earth's most fragile places, Ocean Victory …
Top6 Endicott Arm Cruise, Trip, and Tour Deals for 2023-2024
Trip Name
Save
From
Days
Next Departure
Summary
Alaska Fjords & Glaciers
Savings

$

3900

8
Oct 1, 2023
Begin your 8-day Alaskan journey in the state's capital, Juneau. This cruise takes you through some of Alaska's most dramatic landscapes with …
Alaska's Glacier Country
Savings

$

9800

8
May 26, 2023
Make the most out of this 8-day cruise aboard Safari Quest as you explore the wilderness and encounter marine animals by kayaking, paddle boarding …
Last Frontier Adventure
Savings

$

3895

8
May 13, 2023
This Last Frontier Adventure aboard Admiralty Dream is an 8-day small-ship cruise that offers more time in wilderness areas and a higher level of …
Last Frontier Adventure
Savings

$

4095

8
Jun 2, 2023
Chichagof Dream's 8-day Last Frontier Adventure offers more time in the woods and a higher level of adventure. On this journey, visit Baranof Island, …
Vancouver to Sitka
Savings

$

5719

12
May 5, 2023
Explore the stunning coast of British Columbia and Alaska on this 12-day Authentic Alaska expedition cruise between Vancouver, BC and Sitka, AK …
Sitka to Vancouver
Savings

$

5379

13
May 15, 2023
Explore the stunning coast of British Columbia and Alaska on this 13-day Alaska Insider expedition cruise between Vancouver, BC, and Sitka, AK aboard …
Top Endicott Arm Travel Destinations
Endicott Arm Trips by Departure Date
Top Experiences in Endicott Arm
Endicott Arm Trips by Duration
Endicott Arm Trips by Activity