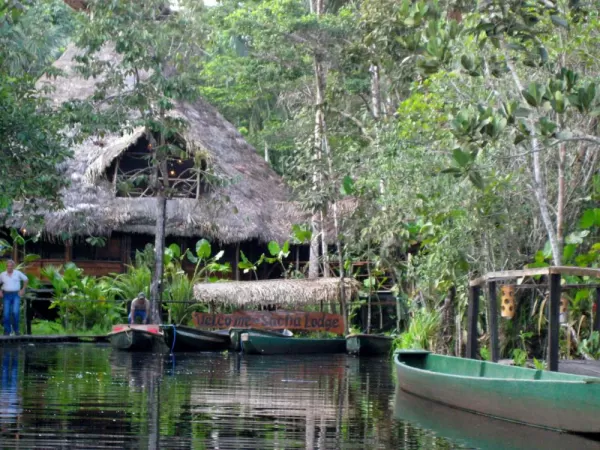 Our dinner of Fillet Mignon, wonderful salads and a bevy of desserts, coupled with the sounds of the jungle, afforded a great night's sleep.
Morning came early, though, and after breakfast we headed on our first jungle hike, which lead to the canopy walk, a 940-foot-long suspension walkway 94 feet above the ground. We spent most of the morning spotting exotic birds, monkeys and sloths. Many of the folks in our group were hardcore birders and made notes of every bird seen. Of the 1600 bird species registered in Ecuador, 587 (37%) have been seen at Sacha Lodge. That's almost 7% of the species found in the entire world.
After lunch, we headed out in a dugout canoe to fish for Piranha. Interestingly, the men caught zero, while all of the women caught at least one. In the evening, we headed out on the water again and came into a storm of monkeys! Howlers, Squirrel, and and more!