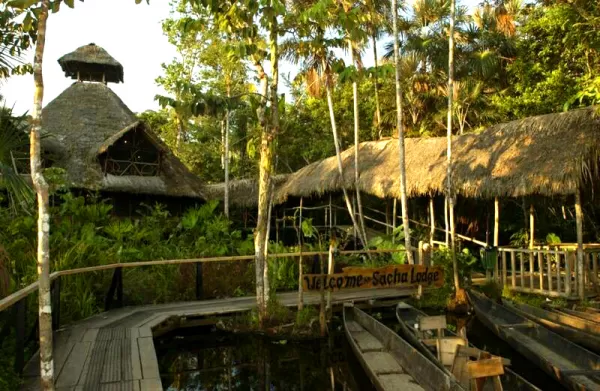 The breakfast at Casa Aliso was AMAZING. Homemade yogurt, wonderful omelets, delicious Ecuadorian coffee, fresh fruit and juice got us off on the right foot.
We took a stroll around the neighborhood and then had a short flight to Coca, which is located at the junction of the Coca and Napo rivers, where we were picked up by Sacha Lodge staffers and transferred to a motorized canoe with the rest of the Sacha Lodge guests. The 2 hour trip down the Napo River was very exciting. We saw herons, kingfishers, spoonbills and ospreys on the river.
We eventually arrived at the trail head to Sacha Lodge, and were immediately greeted by 25-40 Squirrel Monkeys playing follow the leader! After a short hike, we jumped in dugout canoes which navigated narrow canals before entering the amazing lagoon around which Sacha Lodge is built.
We were welcomed with snacks and a tasty alcoholic beverage, before meeting our naturalist, being broken into small groups based on language and seeing our rooms.