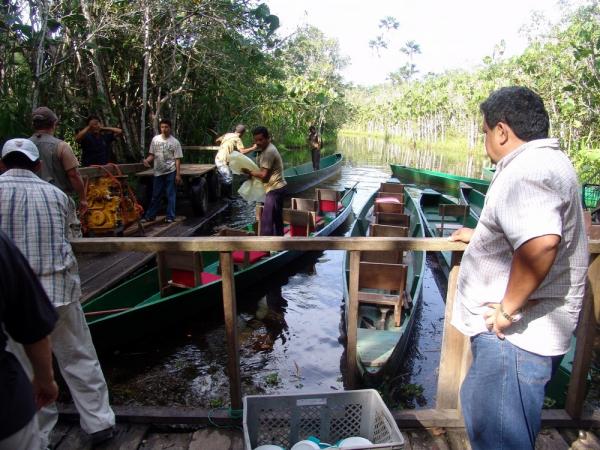 Ok, if you have never been to the Galapagos, you HAVE to go. It's an absolutely magical place. But if you do plan this trip, go to the Amazon first. The Amazon is amazing in it's own right, but it's very different. You are in the middle of a jungle surrounded by wildlife, you can hear them singing, calling, chirping, screeching, digging, etc. You just might not be able to see them right away. But it was such an amazing experience.
Now, the Galapagos is like no other place because these animals are not afraid or hiding from humans. You can stumble upon a pelican, a sea lion, a marine iguana much like you can stumble upon a pigeon in New York city. And you are bathed in sunshine. In the jungle, you need mosquito protection --but the rooms were surprisingly bug free. In the Galapagos, you need sun protection.
Our first day we saw a huge black crater and our guide asked our driver to stop so we could take pictures. This wasn't on our itinerary, there were just very accomodating. We then proceeded to drive up into the mountains were we walked around and found the giant tortoises that helped make the Galapagos famous. They were sunbathing, or mudbathing keeping cool in the shade. We ate a nice lunch in a little outdoor patio area and when we got up to use the restroom there was another tortoise in the path right next to the building. They were too cool. And surprisingly--or not, they are much like small turtles we grew up with as kids. They duck their head in to head from danger, and they were just too cute. It's amazing to think how long they live, and just how long it takes them to get that big. The tops of their shells easily came up past my knees, not that we got that close. They still deserve respect, like any living creature. :)
From there our guide Alfredo, also showed us a cave, where we had to do Indiana Jones style crawling to get through some tight spots.
Then we proceeded higher up the mountain to ride bicycles back down to the town. Now it's been a few years since both John and I had been on bikes. And poor John, this was his first lesson in the height difference between most in Ecudor and him. John is 6 foot 4 inches, and the country is just not made for someone his size. He had to adjust his bike seat, and his seat kept falling down while we road. Just make sure if you adjust anything it's locked in, learn from his mistake. The bike ride to the country was a little rough in some patches, but this is an adventure tour, what do you expect? For the most part it was on paved road, but then you turn off to a side road. And my other piece of advice, is that if you find you are speeding to fast for your comfort and you don't have control of the bike, DO NOT slam on the brakes, pump the brakes...I pumped my brakes, but when I failed to slow down, I realized that if I just stopped pedaling eventually I'd slow down naturally, instead of unnaturally slamming myself into the ground. Got it?
And follow your guide's lead, he is the expert.
When we got to town on our bikes (our driver had delivered our luggage), we were on our own for dinner an shopping. We walked along a little pier and found huge pelicans just hanging around. Then to our right was a small jetty of rocks and an old pier, where about 20 sealions were resting. We were thrilled...little did we know this was just the beginning. One of our guidebooks described the sealion as "the golden retriever of the sea" and they were right on. They are the cutest, entertaining animals, we just loved them.