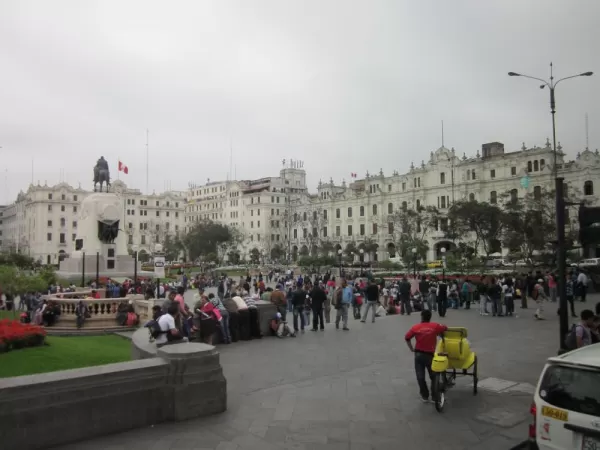 Our final day is Peru was a whirlwind. We caught a very early flight to Lima where we stored our bags at the airport and then took a taxi to town. We were trying to find our local office and ended up getting lost for quite some time. Help from a policeman, several strangers and a few phone calls later, we finally arrived! After emailing back and forth with the ladies working there for over a year, I finally got to meet them!
Milagros, Fabiola and Gianina gave us a tour of their office and then loaded us into the car. They drove us around to see a bit of the city and then took us to a tiny little restaurant for lunch. It was an amazing local seafood joint where the food was super fresh and delicious. We ate so many different types of seafood, including some fabulous ceviche and enjoyed getting to know these beautiful ladies better.
After a few too many Pisco sours, they dropped us off at the Marriott in Miraflores where we were picked up by our Lima City Tour.
The afternoon is a bit of a blur, thanks to our lack of sleep, sheer exhaustion from the past two weeks and the Pisco sours. We were on a large group bus tour and the first half of the tour was spent sitting on the bus while they drove through the different neighborhoods of the city pointing out significant buildings and explaining the history. I have to admit to nodding off for a good portion of this part of the tour, so I can't really say what we saw or whether or not it was interesting. The second half of the tour was done by foot, so we were awake (mostly) for that.
We stopped in the main plaza de armas for photos of some of the government buildings and then we toured another beautiful cathedral. After the cathedral, we spent some time in an Inca museum where we were able to see even more interesting artifacts.
At the end of the city tour, we chose to get dropped off at the main mall in Miraflores that is right on the coast. Kepler and I have been in malls all over the world and find it fascinating to see which types of stores are popular. It was a good-sized mall and we spent an hour or two wandering around before going to the taxi booth to get a ride back to the airport.
We had quite a few hours to kill at the airport before our flights, and most shops were already closed for the night, so it felt like forever, but we finally boarded our flight and made it back home, safe and sound!