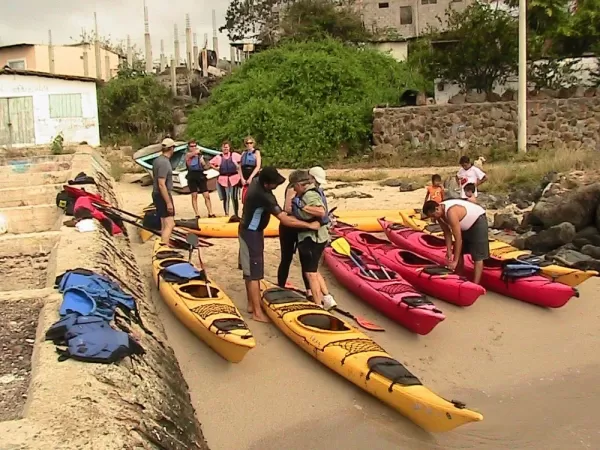 The highlight of our day was pushing the flat-bed truck converted into an open-sided bus around in ankle deep mud. So much for trying to keep clean.
Another sea to summit day for a horse ride around the volcanic caldera. Due to mud, we walked until we reached the rim. Fog obscured our view but it diminshed as we reached the half way point around. 100 ft below was a wasteland of black lava from an eruption 5 years ago. Fumerals depositing yellow and white minerals on the black showed this place is still active.
It didn't feel like it had been 40 years since I last rode a horse. My mother wasn't so keen on the idea but braved one guaranteed to be docile (that and Alfredo offered to lead her steed.
We made way around the rim further to a point were we could see the side volcanos of eruptions in the past number of years and the shoreline off in the distance.
2 hours later, the truck-bus was still wallowed in the mud so we pushed and got a tow. Still the driver did everything he could to get it restuck by ... well it's over.
Like most lunch meals, we arrive later than anticipated but the hosts are understanding and gracious. Palm thatch roof, dirt floor and great food (must be the typical combination).
The restaurant is part of a larger farm and camp complex and the owner proudly gives us a tour. All sorts of fruit trees (tropical and semi tropical of course) as well as vegetables and a private compound of tortoises. All in well-kept order.
An afternoon off is welcomed. I decline the Jens' offer to join him and Bob surfing though I had said I wanted to the previous day. Glad I didn't go after walking up the beach and watching them get pummeled by the surf.
Susan and I take a boardwalk deep into a swamp but only see a few birds before darkness falls.