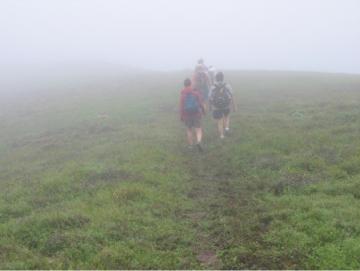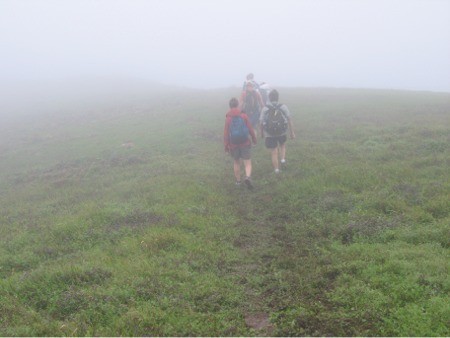 Most people wish for sunshine when traveling but the few peeks of sun we had yesterday reminded me were on the equator - and only 6 days before the equinox. The radiance of the sun is almost overwhelming so clouds, fog and occasional light rain were fine by me.
The plant zones were evident as we climbed the ancient volcano in a small bus making stops to look for birds.
A stop at a tortoise breeding center got us up close for the first time. Free roaming adults and cage protected young gave us a good perspective how these lumbering giants develop. One aggressive male decided to oust another using both the ramming and tail nipping techniques.
Near the top of the volcano we got an eerie fog shrouded tour with Alfredo and Pedro leading. The mud trail kicked the difficulty level up two notches. I was amused listening to the discussions of the benefits of walking trail left in the wet grass or trail right through the mud. Luckily Alfredo suffered no serious bodily injury when he misjudged the surface tension of mud on the side of a gully.
"Down there is a lake where Frigate birds come to wash. In that direction is the ....." Looks like thick fog to me. Fog does force you to examine what's right in front of you rather than the horizon. Plants, small birds, and sure footing.
After lunch back in town we had a short break before launching kayaks into moderate surf. Ordinarily a calm port, the change of seasons kicked up the waves a bit. Circling around a small point and into a cliff-sided cove where Frigate birds and blue footed boobies hang out took about 45 minutes. The plan was to snorkel and look around the rocks. The dark clouds and dropping sun dimmed the visibility.
Honestly I don't remember what we saw underwater though I'm sure it was great. As soon as a group of juvenile male sea lions joined us I forgot all else. Certainly nothing a guide could plan for, swimming with sea lions has got to be one of the highlights. Just inches away, rolling, spinning, diving and generally playing - the sea lions obviously wanted to show us we were out of our element. I dove down 8 to 10 times about 12 to 15 feet deep and each time was followed by 2 sea lions. Sometimes they followed me, other times they lead. I just wish I'd had an underwater video camera.
Waterlogged and exhausted, we made our way back in near darkness.