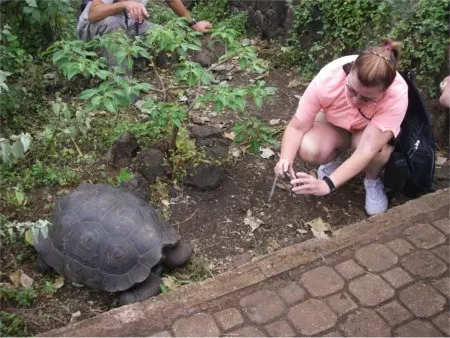 All packed up and ready to wait. Now I feel bad we made the kitchen staff start early so we could get breakfast before hitting the road.
People from just about any culture other than NA would chill for 2 hours, find a coffee shop, socialize and relax; but when Americans are told there's a flight change and they have two hours to wait they pack it full of something. In our case that meant hunting down some local landmark (a church). I'm not the church going type but they're cool to look at.
Stumbling upon a Saturday morning market in the local park as the vendors were setting up is far more engaging. "How much more do you need?" Good thing we didn't bring large empty packs or the craft-shopping may have caused us to miss our bus.
SA airport security is great; just like the US 10 years ago. No need to show up 2 hours early. 30 minutes and you're clear.
The chill of a Quito morning doesn't prepare you for the humidity and warmth of San Cristobal. It was obvious from the minute we sat down to a mid-afternoon lunch that the trip guide, Alfredo Meneses, cares about his guests and food. Local cuisine, top level service and preparation. So much for loosing a few....
A hike to and through the local preserve, up a hill and along the coast is the only thing that kept me from napping. Intro to geography, history and ecology of Galapagos permeated the excursion. I could have spent 2 hours just in the open air museum but I had to keep up so as not to miss anything....
Warm breezes sitting bayside is not how I expected to be eating on the trip - but I wasn't going to complain.