Today was our last full day in the Amazon Rainforest! We all had to wake up super early for our next tour! Our group traveled to a place called Sani Isla, which was located on a tributary of the Napo River. We got to the dock and had to walk twenty minutes down a boardwalk. This boardwalk was very interesting, because most of it was located over a swamp. We got to see more bizarre and interesting plants on our way to our next destination. We finally got to this dock, which was located on a black water river. We were separated into two paddling canoes and we continued our trek through the forest. Hoatzins were everywhere!! There were many interesting birds including the crème colored woodpecker and the anhinga.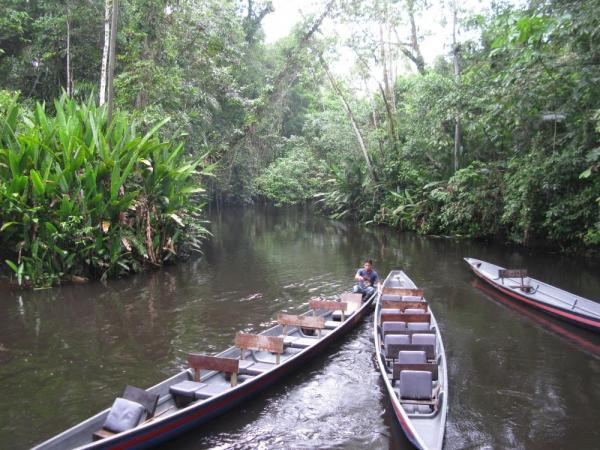 We went on a river tour before the canopy adventure!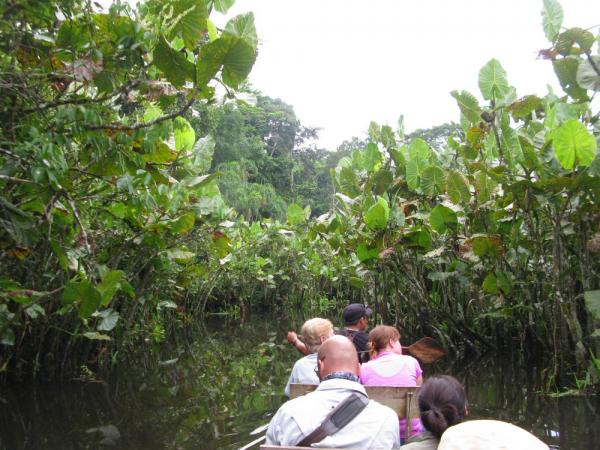 Paddling through the freshwater mangroves.
We went into these narrow passages within these floating vegetated islands to another dock located in a primary forest. We got out of the boat by the shoreline and took a long walk to this massive tree!!! This seba tree was massive and had a large stair case built right next to it. We climbed the stair case to a canopy platform on top of the tree. The sight was amazing!!! There were rare birds everywhere. One could easily see around 300 species of birds within a half a day! There were euphonias, toucans, aracaris, very colorful tanagers, and macaws everywhere!! There was even a resident greater potoo, who pretended to be a tree branch the whole time we were there. There were many paradise tanagers hopping along the tree, so we got very good views of the bird species. Many aracaris landed above us and were looking around the landscape. The view of the entire primary forest was astounding!! We even saw capuchin and red howler monkeys in the surrounding trees. This was one of my favorite excursions! When we headed back to the Manatee, we took a few stops to look at many bats hanging on the trees and a large amount of butterflies flying everywhere. We saw squirrel monkeys swinging and playing in the trees above our boat. The young monkeys were very curious, and so we got many good views of this species. We made it back to the Manatee safely and had a small rest.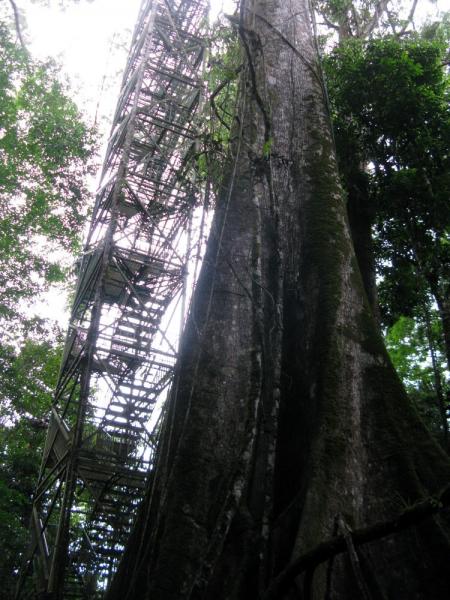 Stairs leading to the canopy platform.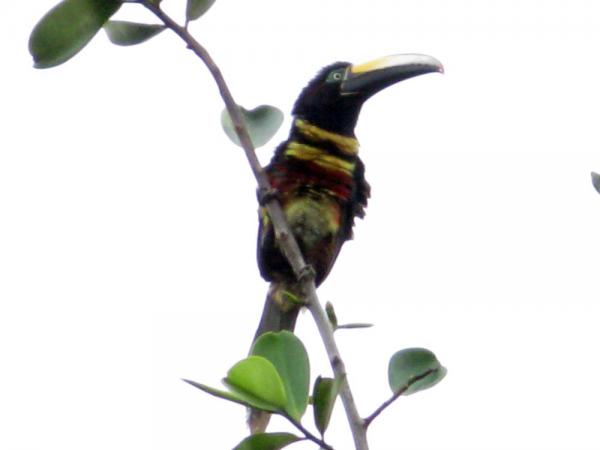 Many banded aracari!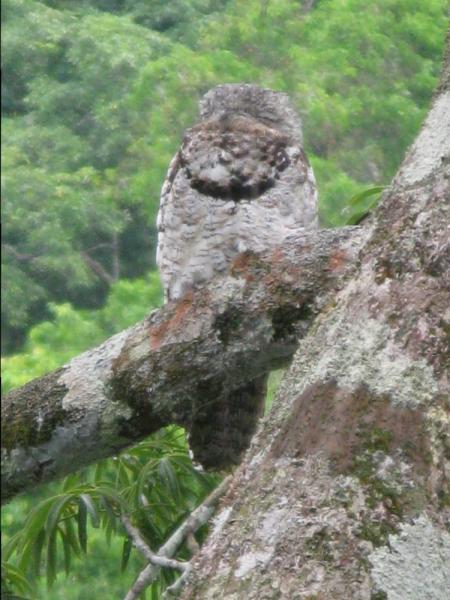 Greater potoo!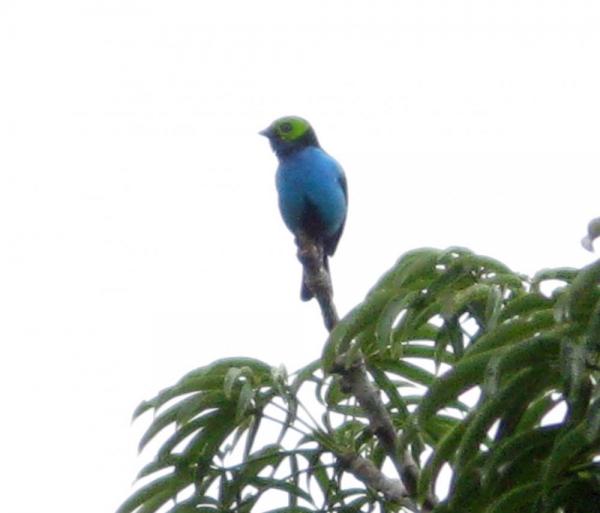 Paradise tanager!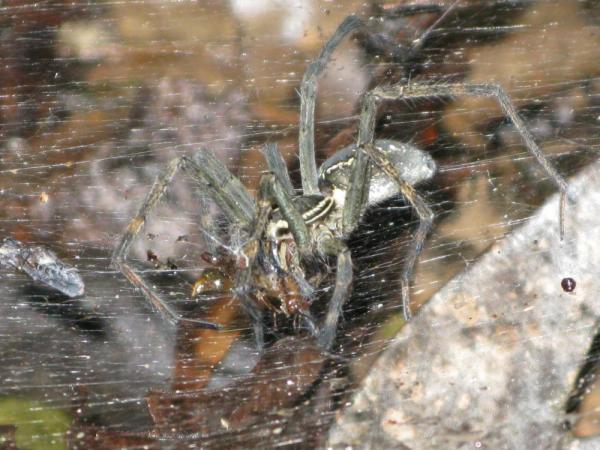 Hungry Spider!!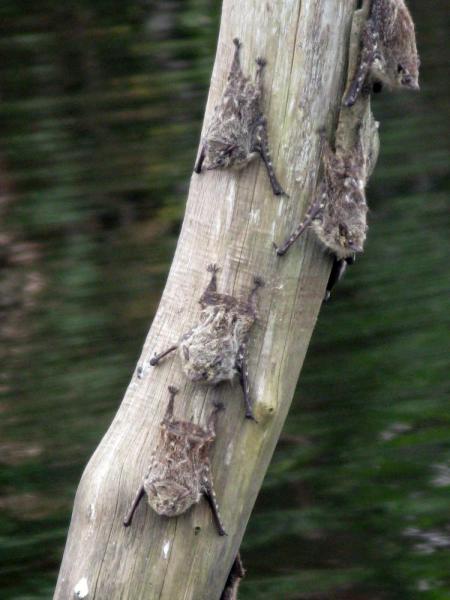 Bats!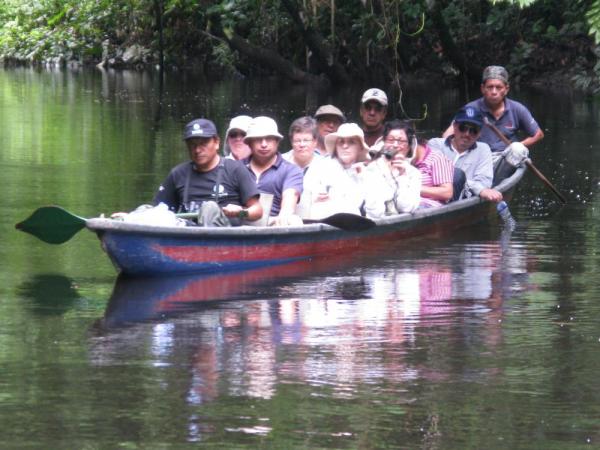 The second canoe on our tour!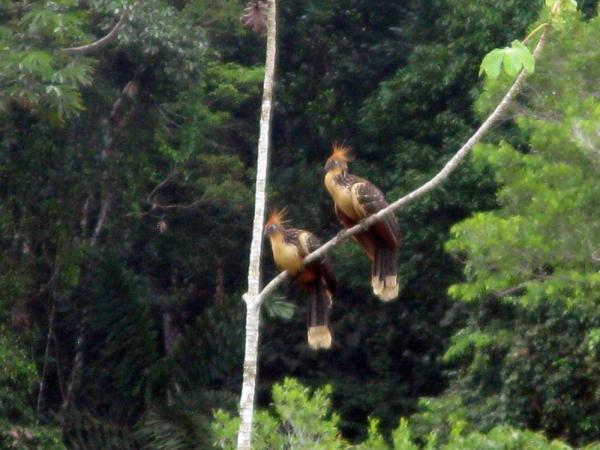 Hoatzin!!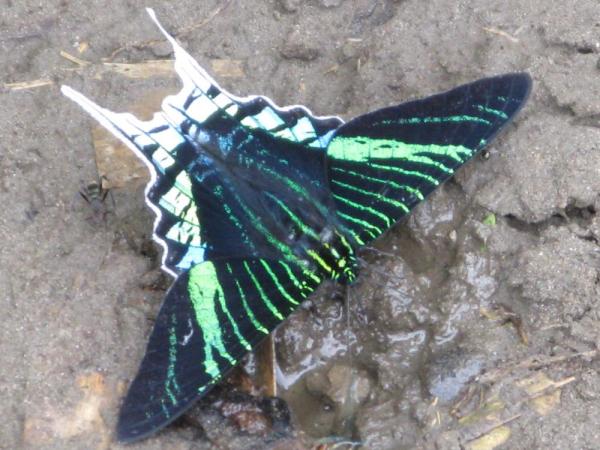 A cool looking butterfly!
After lunch, we docked on land for our final tour! We took a tour van and a truck to a preserve called Limoncocha. This area was supposed to have a high population of caiman in the area. We started our boat tour following a large caiman from a distance. This creature was very large and was not bothered by our boat. When we traveled along the shoreline, we saw large populations of hoatzins sitting on branches and looking at us. There was a large group of squirrel monkeys playing  in the trees along the lake, which was interesting to view. We moved to the other side of the lake and we saw many unusual birds such as the limpkin, wattled jacana, snail kite, capped heron, and cattle egret. The jacana were everywhere and it was interesting seeing their large feet when they were walking amongst the floating vegetation. There was a small family of very large red howler monkeys resting in the trees and they moved on when they viewed us for a while. Around sunset, there were many bat species! Bats were all over the place! We were using flashlights to find caiman and we attracted a lot of insects. Hundreds of bats were flying by the lights to capture the insects. We saw some caiman at a distance, but they always liked to hide in the floating vegetation islands in the preserve. We did see two caiman on this tour! We traveled back to the shore and took a small bathroom break before we headed to the Manatee again. We saw huge snails crawl up the tree, which was very interesting to view. The rest of the night was spent star gazing and relaxing on the boat. This was our last full tour day. Tomorrow, my Dad and I would be heading back to Coca and Quito and catch a flight back to the United States!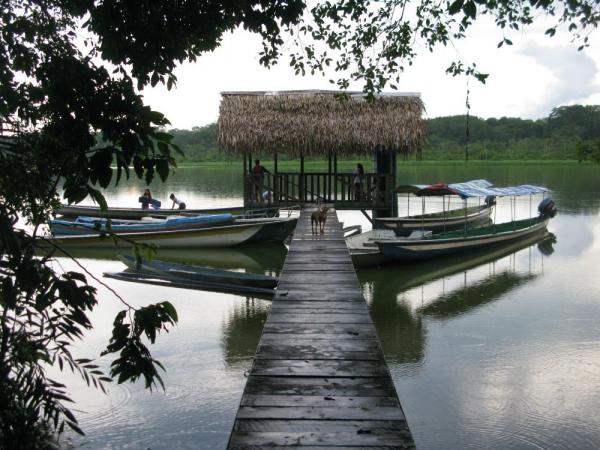 Limoncocha Preserve!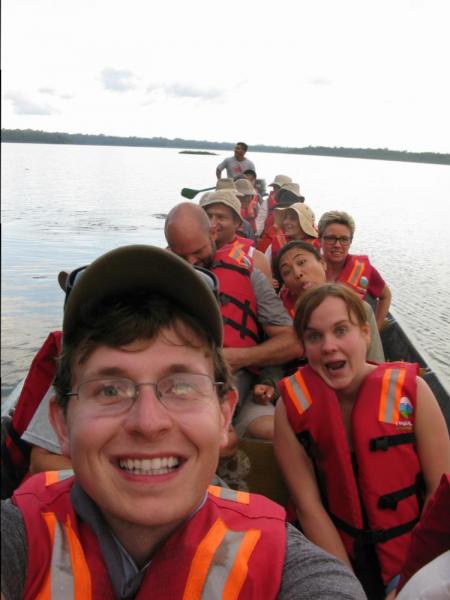 Our group!!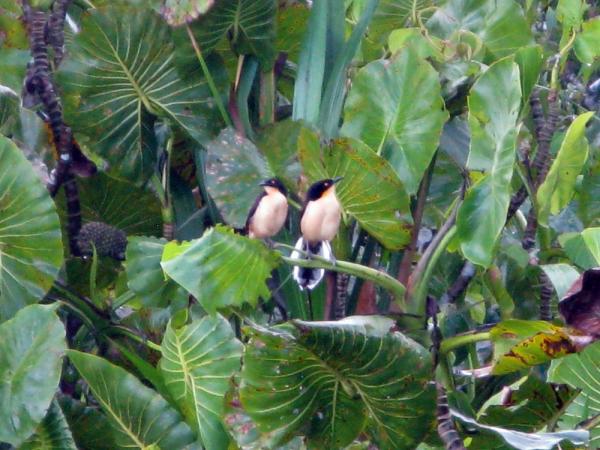 Black capped donacobius couple.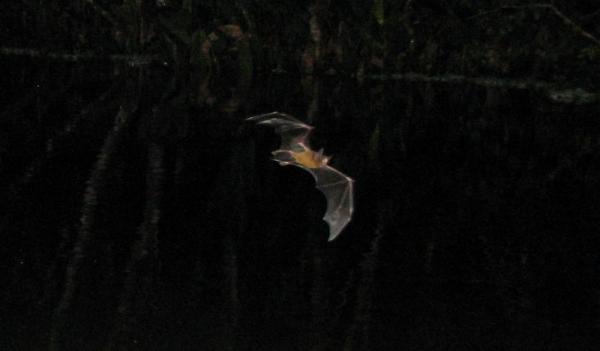 A flying bat!!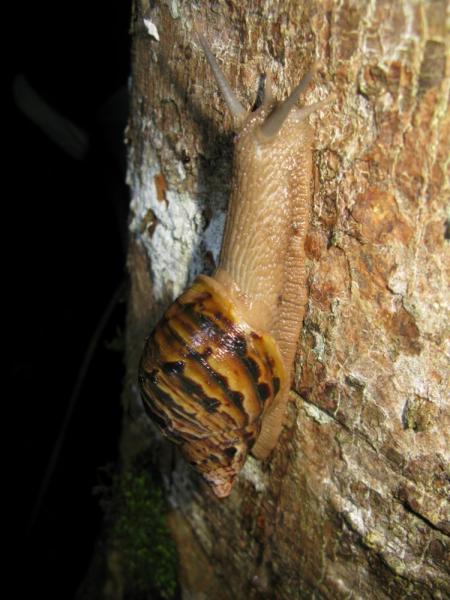 Huge snail!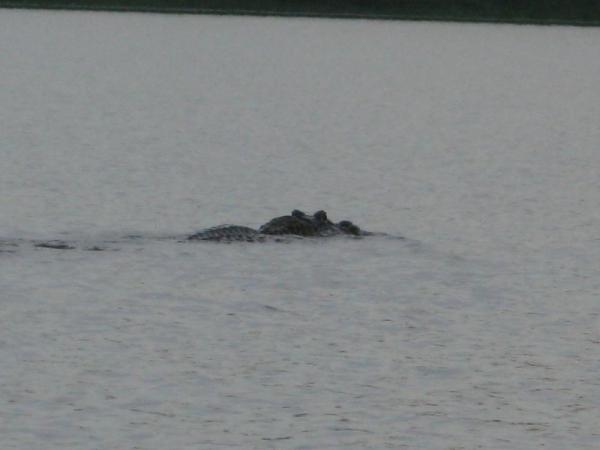 A caiman swimming somewhere.