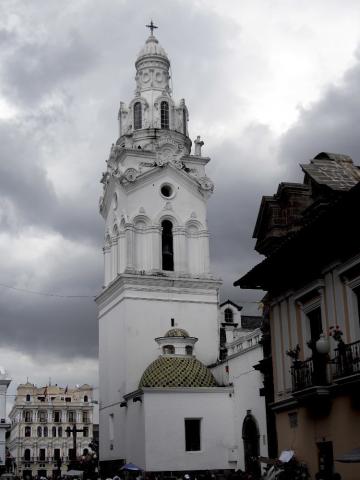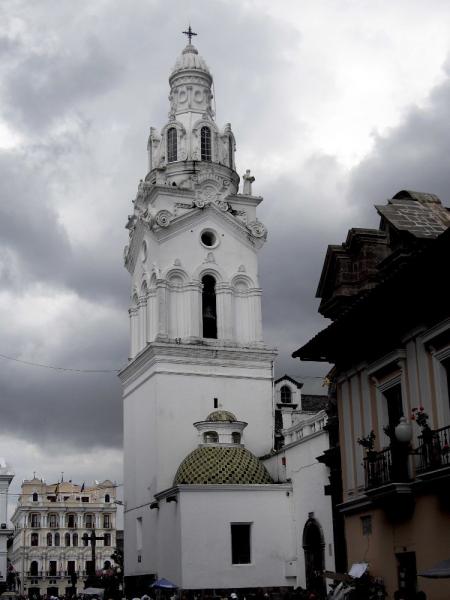 Today, I balance an egg on a nail. And then I lose my balance trying to stand on one leg. Go figure! That's of course, right on the equator – the real one that is, the one they GPSed a few years back not the fake French one. Our guide there shows us the water running clockwise in the southern hemisphere, counter-clockwise in the northern hemisphere and straight down right on the equator. It's difficult to dismiss something so visual, but I still don't buy it.
Luis, our tour guide in Quito, is awesome. He tells us a lot about Quito history and explains the upcoming election in Ecuador and about the new constitution. The new constitution is supposed to provide a safety net for the 38% of Ecuadorians that live below the poverty line, provide free education and curb corruption. However, it will also give the president control over the economy as well as the judicial and legislative branches (update September 29th: the majority voted YES for the constitution).
Continuing seeing the views of Quito, we drive up El Panecillo with its huge statue of La Virgen de Quito where we get an awesome view over Quito, The Lonely Planet calls it the "holiest view". We then take the gondola TelefériQo up Cruz Loma, which takes us up 4,100m on the side of the Volcán Pichincha. Again stunning views over the city and I would call it the "coldest view".
While we have a look at the inside of the some of the churches, I learn that "baroque" means "fear of the empty". I finally get this epoch and understand why it's so OTT.