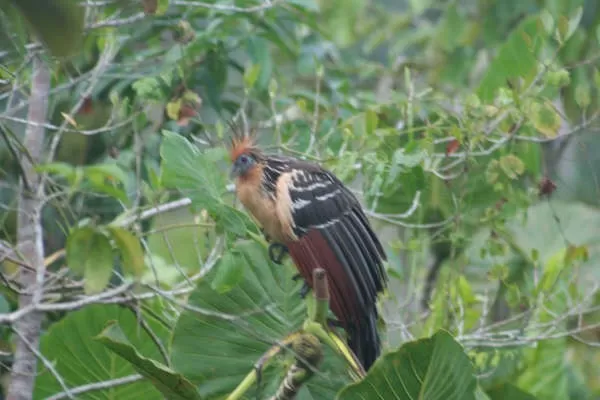 The next morning I took a taxi to the airport, and was greeted by another staff that had my ticket and showed me the way to the VIP room. There I met my fellow adventures, that would be going to Sacha Lodge. Some were also from New Jersey where I currently reside. Everyone seemed to bond right away. We then boarded a plane for the short ride to the town of Coco and the start of our trip down the Napo river.
The canoe was quite large and comfortable. It was a two and half hour trip. We then unloaded all our gear and it was taken to the lodge for us. We enjoyed our first hike through the jungle, with squirrel monkeys jumping through the trees and welcoming us. All kinds of beautiful birds and butterflies surrounded us. When we got to the end of the path we got into smaller canoes to be spirited across the lake to the lodge. Here we were greeted with a cocktail and some tasty hor'doves.
We were introduced to our guide and our native guide. We were then showen to our rooms. My was very large and comfortable. I laid out on the hamock on my porch listening to the jungle sounds. Afraid I might miss something, I headed back to the main lodge and climbed up to a tower to view birds.