Estancia Peuma Hue is an Eco-resort and mountain lodge that combines all the elements Patagonia has to offer. When owner, Evelyn Holter, learned that Estancia Peuma Hue means "the place of dreams", she knew she found a place to facilitate the journey of life and the love of the environment.

Located on 500 acres within the Lake District and Nahuel Huapi National Park, Estancia Peuma Hue is internationally renowned for providing meaningful, life experiences through its various activities. The Estancia is comprised of 2 houses each holding 4 independent rooms, 3 private villas, a boardroom, an organic farm, a non-denominational Temple, a boathouse, and a stable and pasture for its horses as well as cabins for their staff. Join Estancia for an unforgettable experience for body and soul with a stay at Estancia Peuma Hue.

Amenities

500 acres of land within Nahuel Huapi National Park. -2 miles of coastline on Lake Gutierrez. -25 miles of hiking trails. -Woodfire-heated hot tub, sauna, and massage room. -Free parking on site. -Complimentary wi-fi access. -Fireplaces in the living rooms of each lodge. -Complimentary access to a full kitchen when booking the private villa or cabin. -All the buildings are non-smoking. -Daily housekeeping. -Laundry service. -Dining service and activities on-site. -Non-denominational Temple.
Itineraries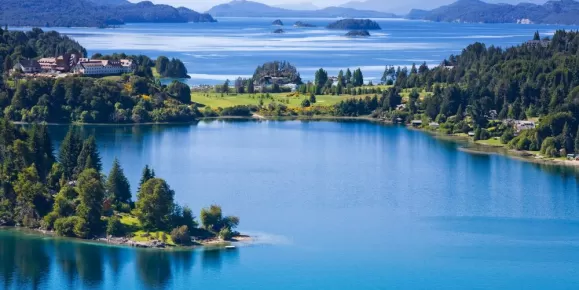 EXPLORE
Bariloche
3 Day Itinerary
Activities:

Biking, Horseback Riding, Kayaking, Whitewater Rafting

Activity Level:

Relaxed
Tour Details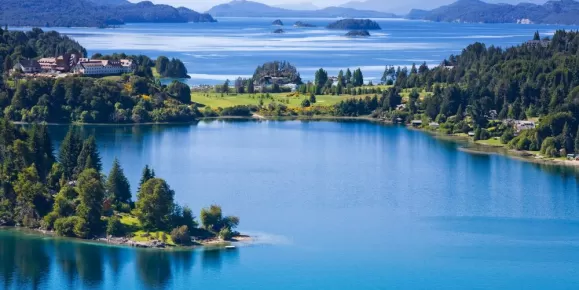 EXPLORE
Discover Argentina
10 Day Itinerary
Visit Buenos Aires and Tigre Delta
Enjoy wine tasting in Mendoza
Explore Bariloche and Patagonia
Activities:

Cooking Classes, Fishing, Hiking, Horseback Riding, Kayaking, Local Market Visits, Urban Exploration, Wine Tasting

Activity Level:

Relaxed
Tour Details
Activities and Excursions

A wide range of outdoor activities and services is offered at Estancia Peuma Hue.

HORSEBACK
The estancia is equipped with stabled horses who are very well trained by the staff horse whisperer guide. Numerous different riding trail options are available either on the property, through mountainous trails, or in the nearby park system.

BIKE
Set out on mountain bikes the explore the trails within the 500 acres of the property, discover wonderful mountain trails and continue onto the trail system that links to the Park trail network.

HIKING
A popular pastime for most guests is hiking the property, the mountain trails or the trails within the park system. Many options exist for different lengths and difficulty levels leading to various kinds of landscapes with waterfalls, hilltops and scenic points with stunning views.

ROPES COURSE ACTIVITIES
The lodge has assembled an exciting ropes course assisted by professional mountain guides with 4 events: a Tibetan bridge, a high beam crossing, a 70-meter rope for a Tyrolean crossing and a 30-meter wall for abseiling.

WINTER ACTIVITIES
During the winter season, outdoor activities such as horseback riding or hiking and snowshoeing to frozen waterfalls are combined with superb alpine skiing at the nearby Catedral Ski resort. Horseback rides are stunningly beautiful in the snow, and paddling on the silent silver lake surrounded by snow-capped peaks is mesmerizing. Alpine and Nordic skiing, ski tickets, special guided tours, ski lessons and equipment rental can be arranged at the resort. The estancia is located just 35 minutes from the major ski resort in South America Mt Catedral, accessed through an extremely scenic drive around Gutierrez Lake.

LAKE ACTIVITIES
addle in the duckies (inflatable kayaks), combine it with additional boat ride opportunities or fly fish at the lake. Fly fishing lessons are also available. A fleet of kayaks is available for individual exploration or group and guided tours can certainly be arranged.

WELLNESS OPPORTUNITIES
The lodge provides a range of wellness options for those looking to relax both body and soul. Indulge in massages and healing; live music concerts at the non-denominational Temple; Yoga & Tai Chi classes and many other options. The non-denominational Temple offers its mystical environs to different activities: from live music concerts to meditations, celebrations and meaningful programs. The estancia is eager to provide services with which to blend nature and the soul, leaving guests feeling refreshed and rejuvenated.

SPECIAL INTEREST OPTIONS
Enjoy an extensive array of options for those with special interests. Wine tasting, cooking classes, tango & salsa lessons, nature walks and more - the lodge is ready to ensure that a stay at Estancia Peuma Hue is a memorable one.
Inquire
Everything was amazing! The planning with Adventure Life went smoothly. The actual trip was fantastic! One of the best trips I have experienced. The cruise staff members were knowledgeable and attentive. I will be writing more about this on the blog!
Justin Chappelle