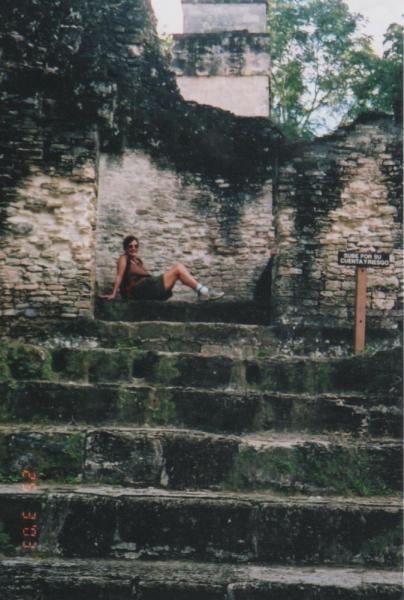 After another hearty breakfast, we left at 7:30 AM and stopped by the Belize Zoo on our way to Belize City to catch our flight to Ambergris Caye. This was a great experience. We got there when they opened so we got there ahead of all the tour buses. The animals were in their natural habitat and I almost felt like I was seeing the animals in the jungle. We saw many different kinds of animals than what we see in the zoos in the states.
After leaving the zoo,we arrived in Belize City where we boarded a twelve passenger Tropic Air plane for Ambergris Caye. We bade Ben goodbye. He had been such a good guide. Our flight only lasted fifteen minutes. That was the first time I had flown in a puddle jumper. The water was beautiful as we flew over it.
We were met at the small airport and taken to our hotel (Potojo's) on the beach. It was such a beautiful setting, the beach and the water and palm trees. Two people in our original group traveled to a different destination but Sarah, myself, and two of the girls came to Ambergris. It had been a long time since we had eaten breakfast so we were very hungry. We started walking and looking for a place to eat. One can walk all the way through the village in fifteen minutes. We ate at Pape's. I drank a light coke(not called diet there) and ate a club sandwich. We explored our surroundings and then walked back to our hotel. I never really had a chance to sunbathe as the skies were cloudy and there were intermittent showers.
That evening we walked into town and ate and listened to music. There was a special kind of dancing called Punta. We were tired and went to bed early as we had arranged to go snorkeling the next day. I had never done this before, so I was very excited. So far, this had been a dream trip.