History
The first inhabitants to develop a distinct culture in what is now Belize were the Maya. Belize was an important part in the great Mayan Empire, which was possibly the most sophisticated civilization in the ancient Americas. Including modern day southern Mexico, Guatemala, Belize, El Salvador, and Honduras, the Maya reached their peak in the 6th, 7th, and 8th centuries AD. However, by the 14th Century this once-great civilization declined. By the time the Spanish arrived in the 16th Century, Maya presence was barely felt.
Even though the Spanish ruled Belize since their arrival in the new world, they were never able to truly control the area. To them, Belize was a backwater, good only for cutting dye wood. This lack of control eventually allowed for pirates from England and Scotland to come in and find sanctuary during the 17th century. When pirating became a less popular profession, these former buccaneers turned to logging the rich tropical forests of Belize.
From the outset of colonization, Belize's roots were more British than Spanish. Britain gained full control from Spain in 1798, when they defeated the Spanish Armada off St. George's Caye. While the United States was embroiled in Civil War, Great Britain declared Belize to be the colony of British Honduras, against the terms of the Monroe Doctrine.
As in many other countries, Belize's economy faced decline after WWII. This eventually led for the push for independence. Self-government was granted in 1964, which allowed for the formation of democratic parties and parliamentary style of rule. Belmopan was named the new capital when Belize City was practically destroyed by Hurricane Hattie in 1961. In 1981 the country gained full independence, and officially became Belize.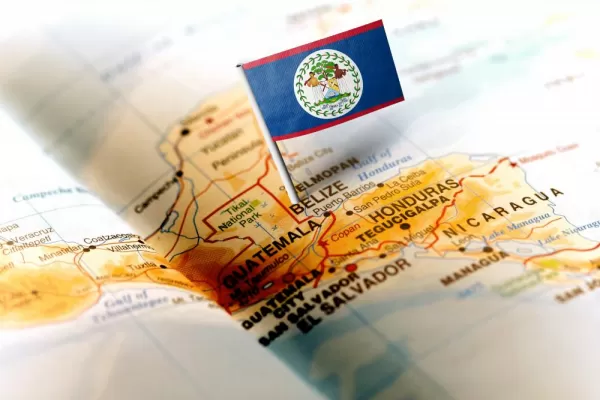 Belize's independence and rule has always been threatened by the neighboring country of Guatemala, which has maintained that Belize has always been their rightful property. In 1972, during Belize's political transition from colony to an independent nation, Guatemala threatened war. British troops stationed on the border prevented any incident, and now the call to reclaim Belize is an empty political cry in Guatemalan politics.
In recent years, the US government provided additional stability to Belize. In the 1980's the US placed invested large amounts of aid into Belize's economy. For this reason it has remain extremely pro-US. Belize is an extraordinarily peaceful country - its standing army of 550 soldiers is a testament to this. Due to civil wars in Honduras and El Salvador, Belize has experienced an influx of refugees from these struggles that have significantly increased the population of Spanish speakers in the country. Still, the country remains peaceful and tolerance prevails with the mix of cultures from Garifuna and British Ex-pats to Mennonites and settlers from Hong Kong. The laid-back atmosphere, cultivated since British buccaneers first began hiding out here, invites visitors to slow down, relax, and just soak up the rhythms of this tiny gem.
Culture
English-speaking and Creole-dominated, Belize has more in common with its Caribbean island neighbors than its bordering Spanish-speaking countries. With a laid-back ambiance of swinging hammocks, large swaths of impenetrable jungle, and an underwater world of twisted corals, neon fish, and gentle manatees, Belize is a tropical treasure.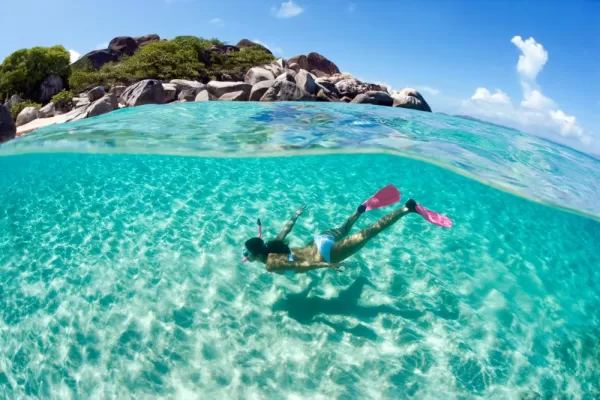 Located in the Yucatán Peninsula, Belize is bordered by Mexico to the north and Guatemala to the west. Though small in size (9,087 square miles), it arguably offers the best diving in the world. It is also one of the best places in the Americas to see the elusive jaguar and other large jungle animals. In a single day, visitors can snorkel in the morning and visit ancient Mayan ruins in the interior in the afternoon.
A unique aspect of Belize is the fact that its undeveloped areas have allowed for nature to live on in a way that draws biologists and environmentalists. The entire country only contains two paved roads, which can make getting around difficult, but is an experience on its own. Prices for food, hotels, and souvenirs are higher in most out-of-the-way places, but it's worth it! The best idea is to just relax and let yourself fall into the slow rhythm that is Belize.
Religion, Language, and Food
The majority of Belizeans are Roman Catholic. However, due to the heavy British influence, Belize has a larger Protestant population than any other country in Central America. The Maya and Garifuna practice their own mixture of traditional shamanism and Christianity.
The official language of Belize is English, but many other languages are also used. Along the coast, you'll likely hear an English-based Creole. Spanish is the main language in towns that border Guatemala to the west and Mexico to the north, and it's possible to run into several other languages such as Mayan, German, Chinese, Lebanese, and Arabic.
While Belize has never really developed a national cuisine, its food is diverse and influenced by its history: it was inhabited by the Maya for centuries, colonized by English buccaneers, and served as a refuge for escaped enslaved Africans. As a result, Belizean food offers spicy Creole creations, standard English corned beef, and the Mayan delicacy of the fried
paca
(a small jungle rodent). For most meals, rice and beans are a staple, and coconut milk, plantains, and hot peppers are common ingredients. Sitting down to a traditional Mayan meal can be a treat for the adventurous. Suckling pig roasted underground is a delicious favorite in the countryside!