The best time to visit Belize is during the dry season, from late November to April. Temperatures are cooler and rainfall is decreased, though it is not unusual to have short rain showers. There is typically more tourist traffic, especially along the beaches, all attractions and sites are open during the dry season.
Christmas, New Year's, and Easter are peak travel seasons, and you can expect the highest rack prices on tours and lodging during these times, especially with travelers hoping to escape the bitter cold of the northern winters.
Climate
Annual temperatures range from 50-95°F (10-35ºC), with an average temperature of 79°F (26ºC). The driest months are February and March, and the temperature then peaks in April and May.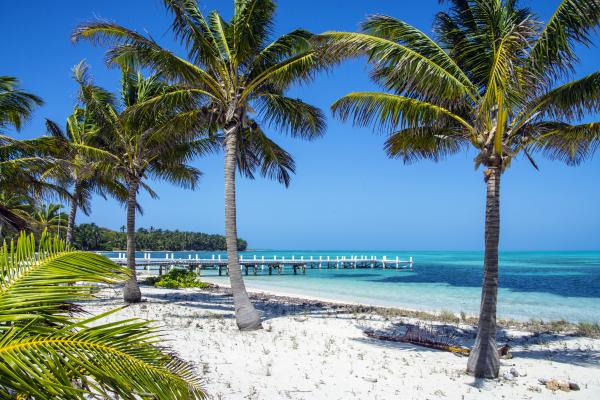 Regions:
The mountains are cooler than the rest of the country, especially in the evenings.
Out on the Cayes you'll enjoy tropical breezes wafting through the palm trees, providing you with natural air conditioning.
Temperatures along the coast are in the 70-80s (20°C - 30°C) for most of the dry season but can reach into the 90s or even triple digits (30+ºC) during April and May, with high humidity.
Water temperatures along the barrier reef range from the mid-70s to the mid-80s.
The Rainy Season
From June through December the weather is hot and humid, and some attractions and resorts are closed for the off-season amount of rainfall varies widely from north to south, from 40-60" in Corozal to 160-190" in Punta Gorda. Belize lies in the hurricane belt - these have often come later in the season, between August and the end of October.
If you don't mind daily showers and a bit more limited options, the low season of tourism between September and October can be a good time to find deals and promotions if you're traveling on a budget. The off-season is also a great time to visit Belize if you're hoping to do some diving due to its calmer waters.