is from December to May during the dry season. It's especially rewarding to visit this Central American destination between March and April when there are clear skies, sunshine, and pleasant temperatures. Keep in mind there's a spike in tourism during Holy Week and Easter, so skip those dates to avoid thick crowds.
The rainy season in Belize is between June and November, with the risk of rainfall spiking in September and October.
, Belize is blessed with consistently warm temperatures around 80 degrees Fahrenheit (27 degrees Celsius). It is divided into the dry and wet seasons, with travelers generally preferring the former. Read on to learn more about when to roam the turquoise beaches, lush jungles, and winding underground caves of beautiful Belize.
Travelers visiting Belize usually stay in three major regions: the
cayes and atolls
,
Western Belize
, and
Southern Belize
. The coastal areas and cayes run a little hotter than the mountainous Cayo District and other inland regions, while the northern part of Belize sees significantly less rain than the south. However, differences are not too extreme.
Dry Season (December-May)
Driest Months:
February, March, April
The dry season in Belize is between
December and May
. Weather-wise, any of these months are excellent choices for a cruise or a beach getaway, although February, March, and April are especially dry. Expect cooler conditions up to February, while April and May are typically the hottest months in Belize.
Rain is possible, but most showers are light, quick, and followed by sunshine. Travelers flock to the Caribbean during the dry season, especially in the earlier months, so don't be surprised at higher prices and busier tours. The crowds tend to thin out after Easter, making April and May the best months to go to Belize if you want a quiet vacation before the rainy season in Belize.
Humidity and risk of rain begin to rise in May.
Wet Season (June-November)
Rainiest Months:
August, September, October
Hurricane season in Belize is generally from
June to November
, although rain showers can continue on until December. It is also very humid during the rainy season. The silver lining is that it's rare for the rain to pour the whole day in the country. Downpours typically last a couple of hours, giving travelers the chance to step outside and sightsee the rest of the day. Costs are down during the wet season, making it the best time to travel to Belize for cheap.
A unique event dubbed as the
"little dry season"
in Belize occurs in August, which refers to a brief dry spell before the brunt of the hurricane season hits.
Do consider that tropical storms are most common from mid to late August to October; this is the low season in Belize as people steer clear of potential storms. It can also be very humid at this time. Then, as the rains ease up in November, prices also begin to rise as the high season of the holidays approaches. Garifuna Settlement Day on November 19 is also a fantastic event to witness, with celebrations happening across the country.
Peak Season
Belize is not as popular as other Caribbean destinations, but it still sees its fair share of travelers. High season in Belize is usually during the
holidays (December to mid-January)
and the
Holy Week and Easter (usually April)
. Skip these weeks to avoid jostling for space at the beach and save money on your trip. Hotels, cruises, and tours tend to be more expensive around these dates.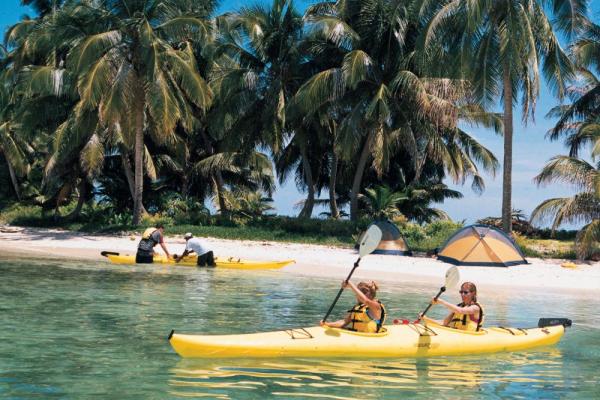 Best Time to Visit Belize for Diving and Snorkeling
Diving is a year-round activity in this Caribbean destination, with the Belize Barrier Reef (the second-largest in the world) teeming with vibrant fish, sharks, rays, and dolphins. However, visibility varies with the weather. The best time to visit Belize for snorkeling and scuba diving is from
April to June
, when visitors can expect the clearest visibility.
Some marine creatures only show up at certain times of the year. Whale sharks ply Belize waters in
April and May
, while manatee season is typically during the wet season from
June to September
. Get a glimpse of sea turtles from
March to September
, then marvel at groupers during their mating season in
October and November
.
Best Time for Wildlife and Birding in Belize
The lush rainforests of Belize are home to a stunning array of wildlife all year round, including monkeys, big cats, tapir, iguanas, and crocodiles. Rain keeps the flora extra lush and vibrant during the wet season; hungry wildlife will be out and about, with plenty of food available during these months.
Jaguars are rarely spotted in the wild, but your best chances are at the world's only jaguar preserve, Cockscomb Basin Wildlife Sanctuary in south-central Belize. Nighttime tours are ideal as these endangered big cats are nocturnal. Keep in mind that stealthy jaguars are notoriously tricky to spot, but they are most active in
June and July
.
Birding is excellent throughout the year, but the best time for birdwatching in Belize is between
January and April
, when birders can get a glimpse of migratory birds along with the local and regional avian population. One of the notable migrants is the endangered scarlet macaw, which shows up at their feeding grounds in Red Bank, Placencia every
January to March
.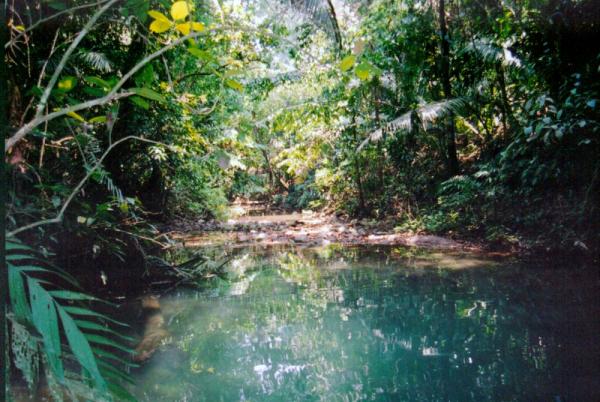 Best Season to See Mayan Ruins
One of the highlights of traveling to Belize is marveling at the incredible millennia-old Mayan ruins. The country has more than 600 ancient Mayan sites tucked away in dense jungles and massive cave systems. The sprawling Caracol is the most famous, but Xunantunich, Altun Ha, and Lamanai are also beloved among visitors.
While travelers can visit the Mayan ruins any time of the year, they can be difficult to access during the rainy season. Dry months from February to April are best for exploring.
Best Time for a Cruise in Belize
Ocean lovers will be happy to hear that
cruising Belize
is fantastic
all year round
. Cruise lines sail to this corner of Central America every month, with a variety of trips taking travelers to ancient ruins, untouched jungles, vibrant coral reefs, and hidden waterfalls.
Travelers who want the highest chances for clear skies will prefer a Belize cruise between
February and April
. This time of the year is also the best time for kayaking in Belize as well as other water sports. However, choosing to travel during the low season means that tourist attractions will be a lot less crowded.
Contact our
Adventure Life Belize experts
for more details on the best time to visit Belize.