Camp Moremi is situated in a beautiful landscape -- with mature forests, water channels and grasslands.  The variety in habitat yields a fantastic variety of wildlife.  Moremi Game Reserve is within the Okavango Delta -- the only public  protected area in the Delta.  This part of the Delta has year round water, so you have access to a wider range of activities: game drives, walking safaris and motorized boat safaris are all possible.  The camp was recently renovated and the redo is incredible.  I feel that I know that intimately as I got heat stroke and spent a good 18 hours straight in my tent.  It's a lovely and very comfortable tent.  Fabulous bed.
I wish I could recall more of our initial game drive in Moremi.  I remember arriving to the airstrip and being greeted with a lovely bush brunch.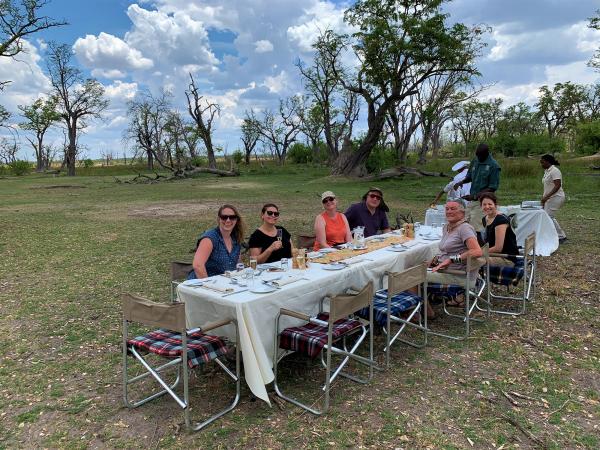 I remember there was a bush fire a few miles away and we took a boat ride to check it out and make sure it wouldn't effect our lodge (it didn't).  I remember visiting Camp Xakanaxa, which was one of my favorite Desert & Delta lodges.  And I remember part of an afternoon game drive, where we saw hyena. Then, I remember vomiting and going back to Camp Moremi and sleeping from about 5 pm to about noon the next day.  I never even got to sample dinner.  Poor me.