Most of this day was lost to heatstroke as well.  I woke up at Camp Moremi and rallied myself just enough to get packed and ready to move to Camp Okavango.  Camp O is located in the permanently inundated part of the Delta, so it has water year round.  It's situated on Nxaragha Island and it's one of the few camps that doesn't offer game drives -- there's just not enough land mass to do so.  Guided bush walks, mokoro rides (dugout canoe), fishing and motorized boat safaris are the modus operandi at Camp O.  Helicopter Horizons also has a heli stationed here.  
In fact, as I was readying myself for the small, hot plane ride from Moremi to Camp O, we pulled up and instead of a Cessna, we saw two helicopters waiting to take us to the next locale.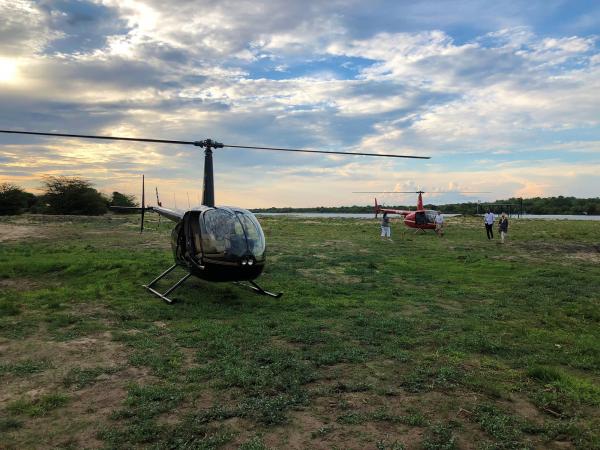 Doors off, lots of ventilation, I felt immediately roused from my half-dead state.  We were whisked over the Okavango Delta and gently deposited on Nxaragha Island.  We did a quick site inspection of Xukana Island Lodge, where I slept for a few hours more.  Finally, around 5 pm, I met up with our group again and took a lovely scenic flight over the Delta.  Two flights in one day!  Spotting wildlife from above is exhilarating -- and the helicopter pilots are super skilled.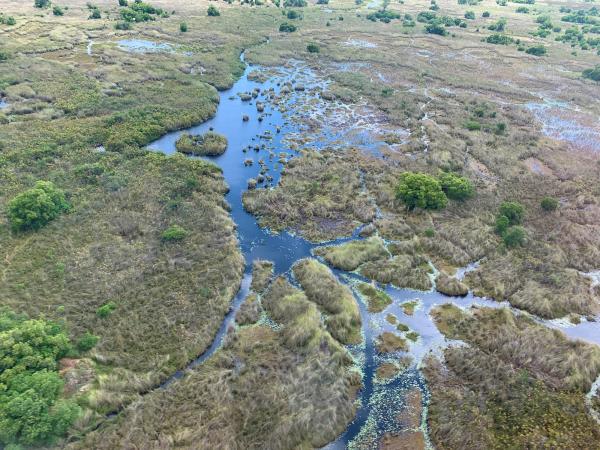 After our flight, they deposited us once again in a stunning locale for sundowners: a bar constructed in the middle of a gentle water channel.  On a day pushing 100 degrees, I happily jumped into the water, fully clothed.  Not yet ready for my usual gin & tonic, I clutched a bottle of water and finally relaxed.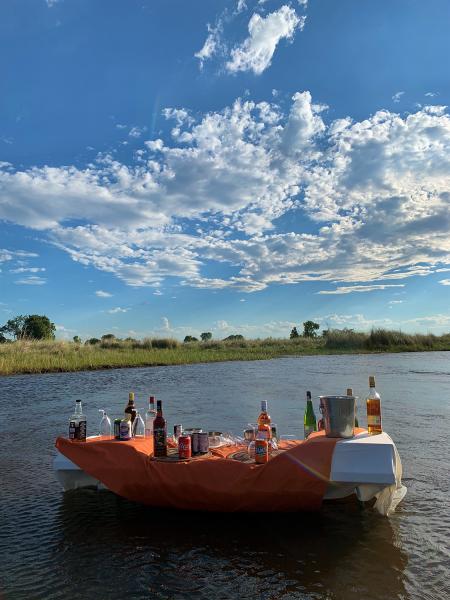 We walked the rest of the way from our sundowner location to Camp O.  Also recently renovated, Camp O is spectacular.  I managed to keep down a quick dinner, but was off to bed super early.  I realized I had only one more night in Botswana and was loathe to fly home feeling as terrible as I did the last 24 hours.  I was determined to push fluids and treat my body as gently as possible.