Ironically enough -- our last safari lodge was by far the hottest (over 110 degrees) and I was just barely getting over heat stroke.  Fortunately, an afternoon thunder storm cooled things off and saved the day.
We flew from Camp Okavango about 40 minutes to Leroo La Tau, the only Desert & Delta property located in the Kalahari Desert. LLT (as the locals call it), is just across the Boteti River from Makgadikgadi Pans National Park.  Since the lodge is located on the banks of the river, you can do games drives and boat safaris there.  The landscape is completely different from the Delta -- it's dry scrubland and mineral grassland.  You can also visit nearby  Khumaga Village as well as do day trips to Nxai pan and Baines Baobabs (during three night stays).
When we arrived to LLT, it was pushing 105 degrees, so we all donned our bathing suits and jumped in the pool. Afternoon cocktails were had as well as several naps.  Around 5 pm, we headed out for a boat safari which turned into a game drive.  As we motored along the river, we suddenly saw a massive herd of zebra coming down to the water to drink.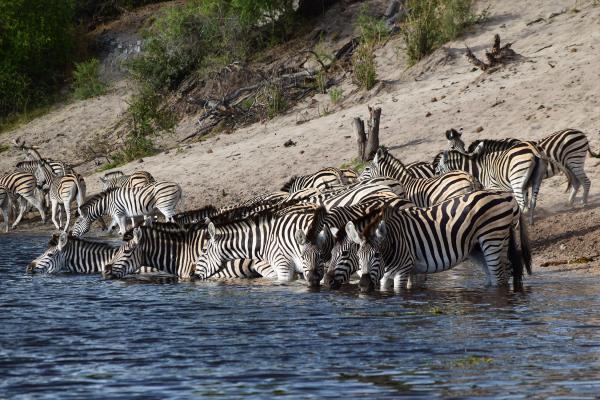 What isn't shown in this picture are the several zebra carcasses that lined the river banks.  The guides explained that the zebra would often run down to the water, drink to their heart's content, only to fall down and perish several minutes later.  Whether they had reached the water too late to revive their systems or something else was at play, was not known to the guides.  The Kalahari is a harsh landscape and we were visiting at the very end of dry season.  Who knows how long and far these zebra had to travel before they found water.
This harsh landscape is home to thousands of zebra, as well a lion, wildebeest, bushbuck, leopard, cheetah, brown and spotted hyena, impala, kudu, jackal, genet, caracal and porcupine (and so many more!).  We saw mostly zebra, elephant and hippo, but we got a late start due to our swimming and galavanting during siesta.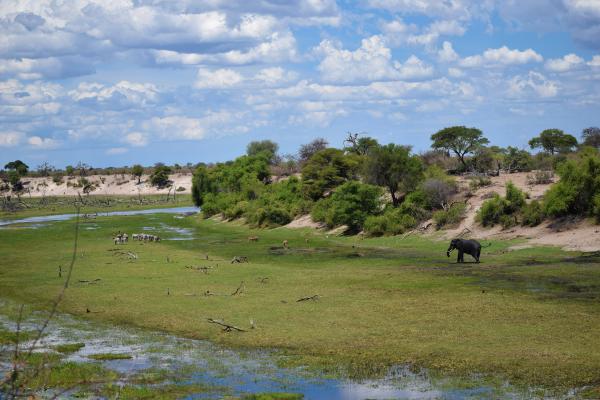 The light was striking at Leroo La Tau.  It always seemed like we had the right angle to the sun, no matter what we were trying to photograph.  Just when we thought the heat was too much, an afternoon thunderstorm came across the desert.  As the boat was taking us back to the camp, rain fell in heavy sheets and lightning flashed across the darkening sky.  We were absolutely soaked and thrilled to have a natural cool-off.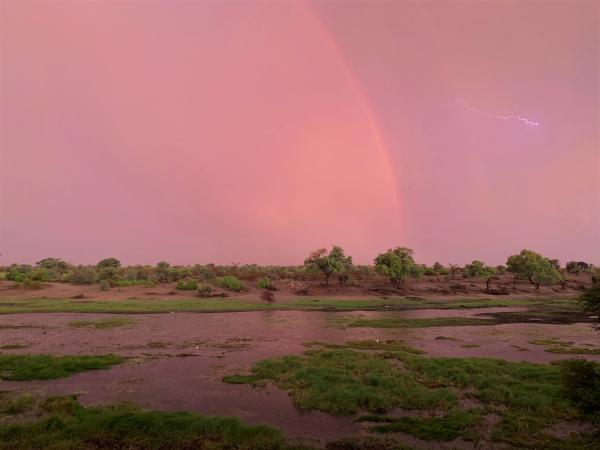 The rain stopped just before dinner, which gave us time to dry off, freshen up and get ourselves to cocktail and supper.  Our last night in Botswana was spent toasting our fellow travelers and singing with the camp choir (most of Desert & Delta camps have phenomenal choirs).  We had even prepared a song to sing for the LLT choir.  We sang our best attempt at "Beautiful Botswana" and the LLT choir grinned.  After that, the choir members all formed a ring around the dinner table and danced and sang with us.  I realized then that not only is it the wildlife that should draw travelers to Botswana, but the people of Botswana.  Every amazing wildlife moment was delivered beautifully by the hands, knowledge and grace of Botswanans.  Without them, Botswana is just a landscape with animals on it.  With them, it has an incredibly compelling story behind it.