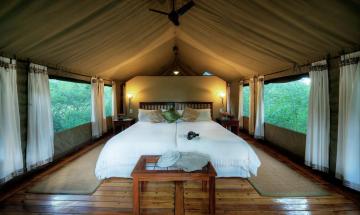 People love to hate Maun. When I inquired with friends in the travel industry, they all recommended I stay over in Johannesburg and use Maun as a quick stopover. But I like to get where I'm going and THEN rest. After my punishing flight schedule, I just wanted to know that I was where I was supposed to be. So I opted for a night in Maun and found myself a little lodge outside of town. Run by two ex-managers of the original Kerr & Downey Botswana, Royal Tree Lodge was the perfect ease-in to safari. A friendly gentleman greeted me at the Maun airport for the 30 minute drive to the lodge. I saw a bit of the city and then we were on the outskirts of town and on to a semi-bush situation.
In the middle of cattle posts, there was a small private game reserve where Royal Tree Lodge resides. The game reserve is free of predators, so it's a great place to move your legs, do a horseback safari and go birding. I was exhausted after arrival, so I took a quick game drive with the manager and then slept. I slept like a woman with a 2 year old child that hasn't had a vacation in 2 years and just spent 2 days on a plane.
The staff at the lodge seemed to understand it all without saying a word. I tucked into the comfy bed in my cabin just after dinner and didn't return to the lodge until 10 am the next day.
I would recommend people to stay a night in Maun upon arrival. If you're traveling most in Botswana, it's nice to get in to the country and start getting a feel for the place. Maun has its own vibe and it's not something to avoid. It's a small town on the edge of the wilderness and good things are to be found there if you're willing to look.