Every day in Botswana seems to get better and better.  And then Vumbura happens.  I get so lucky at Vumbura, that as we are leaving, my guide asks me to high five all of the new guests arriving off the plane, in hopes that my luck will transfer to them. Let us back up a bit .... 
I arrive on the airstrip at Vumbura Concession and deplane to meet my guide, Nas.  I'm staying a night at Vumbura Plains South, which quickly becomes my favorite lodge in Botswana and stays that way over the course of the trip.  I'm not sure if it's the amazing decor of the lodge or the unreal amount of wildlife we see.  I still don't know.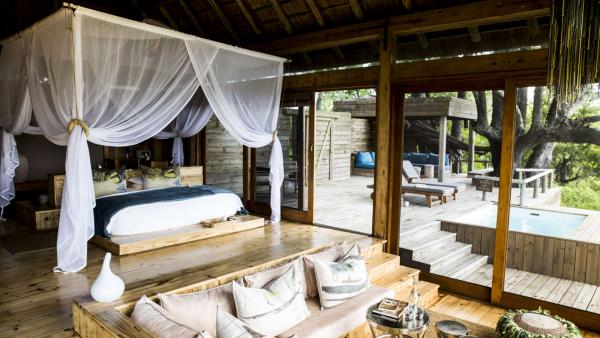 Obviously, the room design and decor is exquisite.  They are massive, with outdoor plunge pools and lounge area.  A very cool, funky indoor shower and outdoor shower really kick it up a notch.  The sunken living area is divine.  The food rivaled that of Mombo (which is known for its cuisine) and far outpaced Abu.  
But this is Botswana and at the end of the day, only one thing matters: how much wildlife did you see? Well .... you name it, I saw it.  On arrival from the airstrip, we came upon 8 lions with 3 fresh kills, that we had narrowly missed.  Nas said that on his way to the airstrip, maybe 20 minutes earlier, they weren't there.  That's how close we missed it.  One buffalo was still alive and struggling.  I watched its eyes lose life as the mother and her pride fed on him.  That's about as real down and dirty safari as I can imagine.  We stayed and watched the pride feed on the 3 buffalo kills for about 2 hours with not another soul to be seen.  Then, we realized we might want to move along.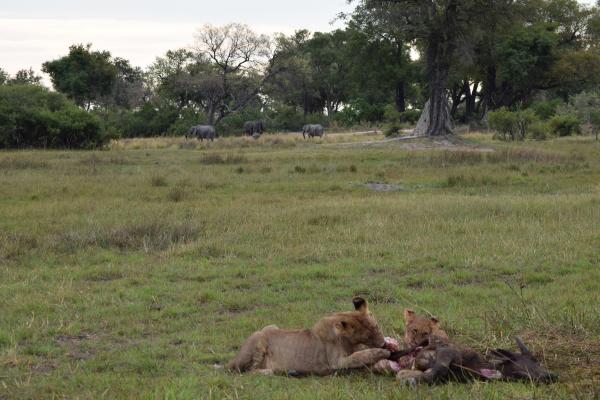 Then, we saw a herd of a few thousand cape buffalo (likely the herd that had just lost its three members to the lion pride) ambling along the waterways.  Vumbura delivered a few troupes of baboons and vervet monkeys -- they were scattered everywhere we seemed to look.  We saw a sounder of adult warthogs with their babies, going into their den.  So cute!  There were giraffes and more giraffes.  Hundreds of elephants crossing the rivers.  A surprise leopard on the way to do a site inspection of Little Vumbura Camp.  4 African Wild Dogs on an Impala kill, hippos upon hippos, zebra --- you name it, we saw it.    Nas and I were so giddy that at one point, I told him to find me some cheetah (jokingly) and he told me they hadn't seen cheetah there in about 6 months.  Not 10 minutes later ... bam!  Cheetah.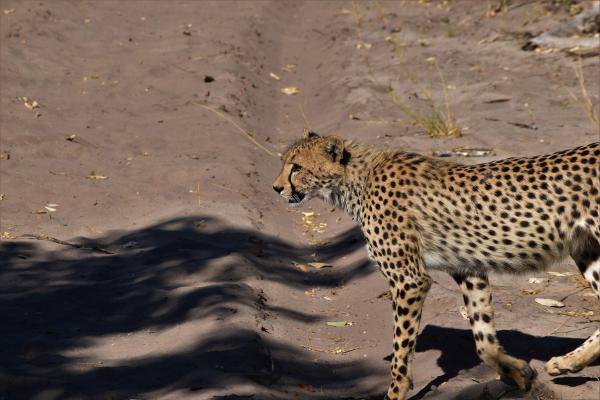 And not just a cheetah for a few seconds from a distance.  2 cheetah and we tracked them as they walked slowly to a watering hole -- following them through the brush for a good hour.  Shot after shot after shot, walking across dusty roads, a few feet from our vehicle.  Here's where a good guide shines: Nas could predict where they were going, so he would drive through the bush and position the truck in just the right spot.  Without fail, the cheetahs would walk 5-6 feet past our truck about 1 minute later.  He would also have me in just the right location to not have bushes or other debris blocking my lense -- WITH the lighting in the right direction.  I didn't even realize how hard this was or how much work it takes until later in my trip when another guide couldn't do the same thing.  
If I had just two nights to spend anywhere in Botswana, this is where I would spend it, every time.  I know I got lucky and the magic doesn't always happen this way.  And that it can happen anywhere.  But it happened for me here and I'll be grateful for it forever.