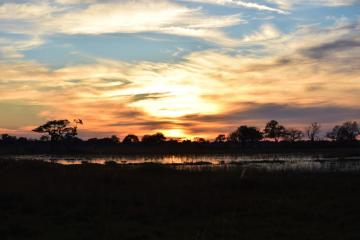 Safari schedule is something I hadn't ever experienced before. It is very much organized around two factors:
1) Wildlife is most active in the early morning and in the late afternoon - evening
2) For part of the year, it's hot as hell in the middle of the day
That means that most days are organized as follows:
Up between 5-5:30 AM every day for quick breakfast
First morning game drive at 5:30-6:00 with coffee/snack break in the middle, then back at the lodge around 11:30 AM for lunch
Siesta until around 3:30, then High Tea
Afternoon game drive/activity starting at 4:30 - Sundowners at around 6:30 pm - Arriving back to lodge around 7:30 pm
Dinner at the lodge, then SLEEP!
Siesta is an important component of safaris. That time is taken to cool down in the pool, read a book, take a nap and then another cool dip in the pool or perhaps a shower. It's also used to fly between lodges if you are moving accommodations. The schedule all runs like clockwork.