Last stop on the Wilderness Safaris train was Savuti Camp.  Savuti Camp is located in the Linyanti Concession along the Savute Channel.  The Savute Channel has a lot of lore surrounding.  The channel dries up for years and years and years before coming back to life (seemingly at random) and then it flows for years again before disappearing.  The ghost channel ...
Right now, it's dry -- which means that the area where the channel once was is now a savannah grassland.  The camp is arranged around a lagoon with tons of wildlife views from the tents.  I spotted elephant, hippos, buffalo WITH the added bonus of ellies in camp.  
Wildlife in camp is a lot of fun for guests, but a huge pain in the butt for camp staff. As we  were greeted upon arrival at Savuti Camp with cold, wet towels, the General Manager bid us a hasty goodbye as she went to take care of some unexpected guests in camp.  A large male elephant was munching on a mopane tree outside of a guest's tent, while he watched from his balcony taking pictures.  It took a good while for the elephant to continue on through, while the staff at the camp advised guests to stay put.  After he moved in, I was able to get into my tent and freshen up a bit.  November is hot in Botswana.  Temperatures were consistently in the 90's and hit the low 100's at the end of our trip (we were down in the Kalahari Desert - go figure).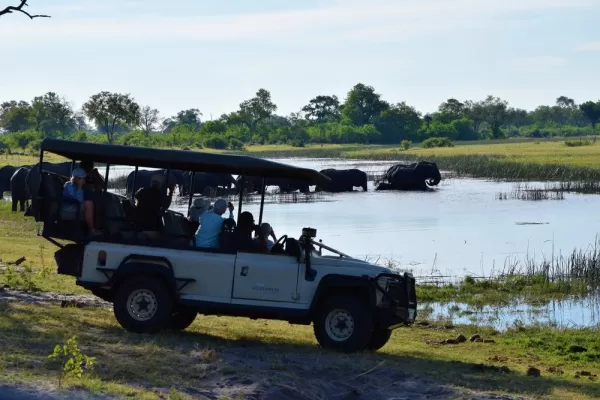 The Linyanti Concession boasted parades of elephants everywhere.  Massive numbers of elephants cross the channels -- when I asked my guide (Onx) if they were above carrying capacity he just snorted a "yes".   I had this conversation with many of my guides.  My master's degree being in Intentional Resource Management, I've studied human/wildlife conflicts and caught the drift early on that elephant populations in Botswana were HEALTHY.  So healthy in fact, that in some places elephants are killing forests and damaging ecosystems.  I'm not going to weigh in myself (not enough info), but one of the highlights of my time in Botswana was talking environmental policy with my guides.  I got to geek out every day and they seemed to enjoy a different line of questioning from their guests.  Hearing their thoughts on everything from wildlife management to concessions v. publicly protected areas to camp management to race and power was fascinating and turned the social scientist in me WAY ON.  Onx and I came up with a few ideas for a PhD dissertation over sundowners as a meteor fell from the sky.  I'll use the word again -- it was magical.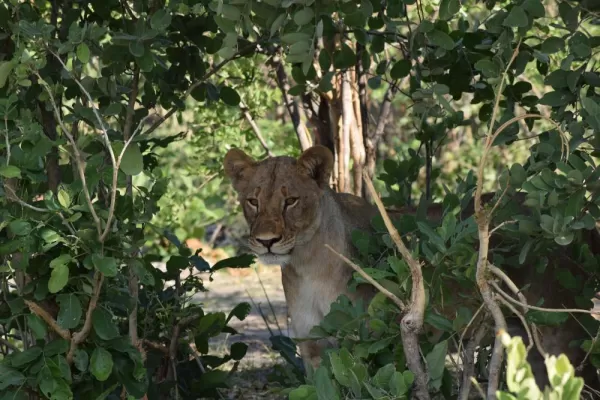 The next morning was my last game drive while traveling with Wilderness Safaris.  And did it ever deliver!  A pride of 7 lions was lounging by a water channel in the morning and we watched them for about an hour before heading off to catch up with two hyena.  Then, one of the more unique sightings occurred.  As we were watching the pride of lion, we saw a crocodile mozying down the river with something in his mouth.  As he came closer, we realized it was a dead baby hippo.  This hippo was WAY too big for the Crocodile to eat, but we watched as he rolled it underwater several times trying to get his massive jaws around it.  Still, it was too big.  He was really struggling to stay afloat.  Onx thought he was trying to get the baby hippo to the side of the channel to stash it someplace and let it decompose until it was easier to eat (side note: we had seen this baby hippo in the early morning when he was still alive, but just barely.  This was before the croc got to him and Onx said he might have been sick or injured).  So, we have this poor croc struggling with this even poorer dead baby hippo floating downstream and suddenly we realize the two of them are floating straight towards an adult hippo in the middle of the channel.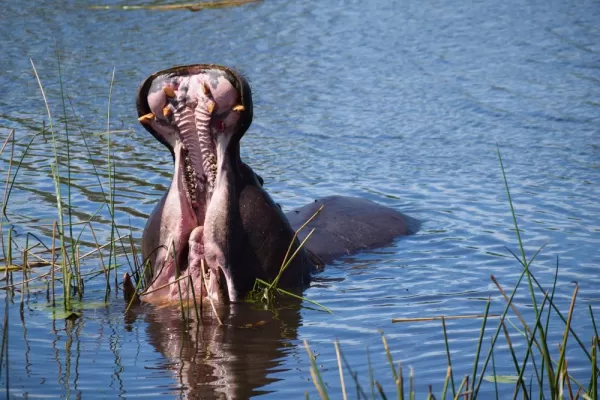 What's going to happen?? Onx starts getting excited.  Is the adult hippo going to think the croc killed the baby hippo and attack the croc?  Will the croc fight back?  Onx wonders if the hippo will attack the baby hippo, not realizing it's dead, thinking it has entered his territory (male hippos are territorial).  What happens isn't quite as dramatic, but it's still riveting.  The hippo spends a few minutes nudging and inspecting the dead baby hippo gently. The croc lets going of the baby and swims a short distance away.  You can see the adult hippo figure out the baby hippo is dead, but he keeps nudging and licking him, holding him so the current doesn't take him downstream.  Then, slowly, the croc moves back in, takes the dead baby hippo back his jaws and moves on downstream.  
Onx is visibly moved by what we just saw, which make it seem even more special.  He says he's never seen a wildlife encounter like that before.  And being able to watch it all unfold just 15 feet away, in complete silence, without anyone else around is what Botswana is all about.