Caribbean food is similar across most of the islands. Chicken in spicy (Jerk spice for example) or fruit sauces served with vegetable sand rice. Goat, lamb and beef are also common in meals. Fish is a staple especially where the coastline occupies a large portion of the island land mass.

Specialties include Sorrel flowers which are brewed into a bright red drink at Christmas time and Boudin, Creole sausage. A popular dish on the island of Grenada is "oil-down", a mix of meat, dumplings and green banana, yam and potatoes with coconut added and then cooked until only a little bit of coconut milk remains at the bottom of the pot.

Cocktails are very popular on the Caribbean islands. Many of the drinks served to visitors on Caribbean cruises are very exotic in flavor, for example the mauby is made from tree bark. Caribbean cocktails are usually brightly colored and very strong so they should not be indulged in without due care and attention especially in hot weather. Many islands produce their own beers such as the Hairoun Lager of Saint Vincent.
Want to Go?
destination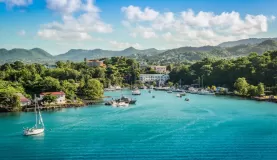 region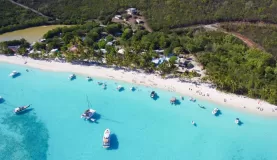 destination