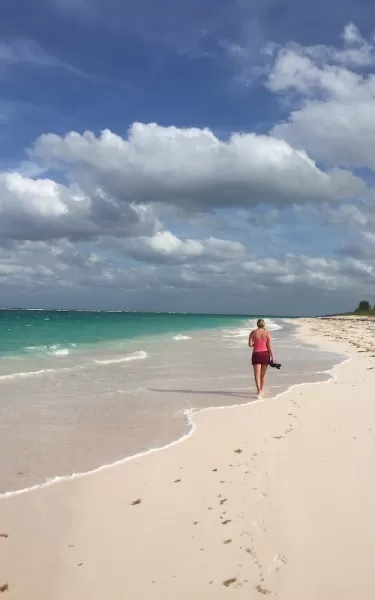 We docked at Governor's Harbor where we would spend the afternoon and evening. Evan and I decided to go for a walk to the other side of Eleuthera and explore the white-sand beach on the rougher side. We walked through town, popping our heads in a few souvenir and coffee shops and then trekked up and over the hill to see the beautiful pink sand beach on the other side. This side was much rougher, as it was the last piece of land before the wide-open Atlantic. We spent the next couple hours walking the beach, which was completely deserted. We walked in front of a few houses but primarily, we had the beach to ourselves. I'd never seen a pink-sand beach before and while it was subtle, the contrast between the gorgeous blue-green water and the pink sand really was beautiful. We were just thinking it was time to head back when we came across a fun little beach bar named Tippy's. We ordered a couple rum punches and sat down to chat with the bartender. We got a second to go and met up with another couple from our boat for the walk back. This time we walked the highway and through town. While not an exciting afternoon, it felt great to stretch our legs after a few days on the Liberty Clipper.
Once we got back to the sailboat, we still had some time to kill before dinner so we grabbed the spinning rods and headed over to the other side of the dock, a natural rock cliff about 15 - 20 feet high. We had no idea what we were fishing for but we could see fish swimming around below us and decided to just see what happened. After a little time, I felt a bite! I started reeling in, and had to lift that poor fish all the way up the cliff. Luckily Evan was there to free the fish, because I wasn't sure what it was or if I wanted to touch it. Fishing in the ocean can be fun, but I am never sure what I am going to pull out of there!
After dinner the crew asked the guests if we wanted to "go out" in Governor's Harbour. We were game and went to a little locals bar that was near the dock. We played some basketball in the back of the bar and had fun chatting with the crew, a few locals and our fellow guests. While in the bar we noticed someone had started a beach fire and were dancing. Evan and I wandered towards them are realized it was a group of Rastafarians drumming, singing and dancing around the fire. We sat down a few yards away and listen to their singing. It was beautiful and peaceful. Omar, one of the drummers, came over and introduced himself and invited us to join them. But didn't want to change their dynamics or their enjoyment and so just watched from afar. This experience ended up being one of my favorite moments of our trip. I nearly fell asleep on the sand listening and watching Omar and his friends have fun around the fire, and couldn't have imagined it any different.