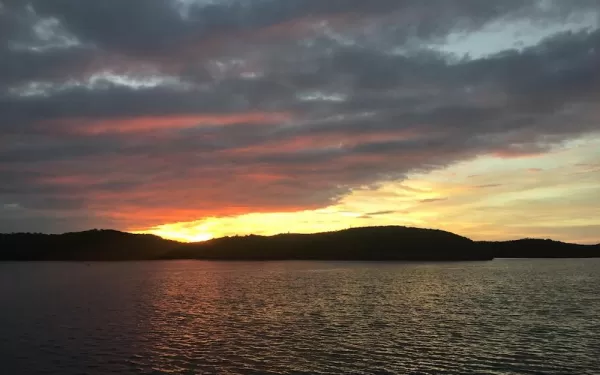 Today, Captain Dillon wanted to take us to Hatchet Bay on Eleuthera so we could play in the calm waters for the afternoon. It was once a small lake with no ocean access, but during the 1940s they created "the cut" but cutting away a 90 foot wide section of the outer wall of the lake. This allowed small boats to pass into the lake (now a part of the ocean) and seek refuge from storms. It became known as the "country's safest harbor" since the former lake was completely surrounded by land. As we entered the bay through the small cut, the captain pulled out the little cannon and let Evan shoot it - announcing our arrival. We found a spot to anchor and the "pool" was open.
We spent the afternoon swimming, jumping off the sailboat, SUPing and boating around in the little "pea pod" boat. Some people went to shore on the zodiac and explored the little town of Alice, but generally we just relaxed and had fun. After another delicious dinner, we spent the evening on the deck listening to music, watching the stars and talking to the other guests and crew. We even saw a couple tarpon swimming around the boat checking us out.
As I was about to head to bed, I walked to the bow of the boat to have a quiet moment alone and heard something in the water. I looked down just as a bottle-nose dolphin popped up and after a short moment, swam away. No one else saw it but I was glad to have that moment by myself with the only dolphin we saw on the cruise.