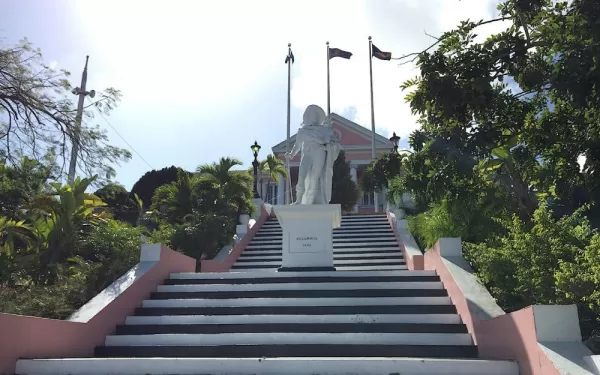 We arrived late in the evening into Nassau, quickly cleared customs and grabbed a cab to our hotel. We were staying in the old part of town, just a couple blocks from the main port where the large cruise ships were docked. Our cab driver doubled up and took another solo guy to his hotel first, and then gave us a fun local introduction to Nassau and the Bahamas. He grew up outside of Nassau and had seen it change dramatically over the years. But he was proud of his country and was a fun way to start off our trip. We got to our hotel, checked in and set out to explore the neighborhood and find some fun vacation cocktails and a late-night dinner. After wondering a few blocks near to port, we ended up at a little hole-in-the-wall place that appeared to only have locals waiting in line. We ordered some conch fritters and went back to our rooftop patio at our hotel to eat under the stars.
The next day, we had most of the day to explore before joining our group at the marina for our sailing cruise, so we set out on foot. We stopped at the pirate museum (which seemed like a must in Nassau) and then walked along the port. There were three huge cruise ships that had come over from Florida, essentially for the day. We sat and watched as they unloaded thousands of people onto the main street, which was filled with tourist shops and chain restaurants. The quiet morning in Nassau was quickly swallowed up by all the tourists. Everyone came to life, trying to get their business. I've never been on a traditional large cruise ship before and watching it was quite the production. But after a short while, I'd had enough and we wandered off the main drag and even just a block or two away from the port it was quiet Nassau again. We found great little shops and restaurants that catered to locals. After a few hours of exploring the city, we went back to our hotel and grabbed a cab to the Marina on the edge of downtown where the Liberty Clipper was docked. We dropped our bags with the crew and then got to explore the marina, looking at the fishing boats, small sailboats and huge yachts.
We were welcomed on the ship where we met the crew and had a safety briefing, and then were set loose to have dinner in town. A few of the crew suggested a little conch shack within walking distance and so about half the guests and a few crew set off on foot toward Uncle Tellis' conch shack. Uncle Tellis was such a sweet older man who took us back behind his little shack and showed us how to clean a conch, then made us fried conch, conch salad and a few other dishes that I couldn't name. Our group took over the whole shack, and he was so happy to host us and show us a fun evening.
I didn't know what to expect arriving into Nassau. All I really knew about it going into this trip was that it was a short flight or cruise from Florida, making it an easy weekend getaway for east-coasters, but most people either came by cruise and only saw the port-area or stayed in one of the large resorts on the beach. Nassau is full of wonderful people, delicious food and a ton of history. I was glad to have this introduction to the Bahamas before we set sail on our sailboat the next morning.