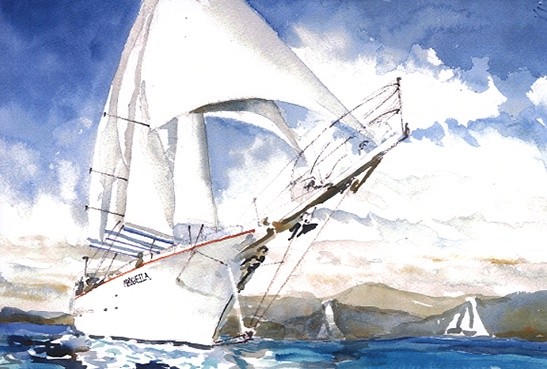 Never plan ahead on timing of Airlines. The schedule will change the day before.The flight was full with a bumpy ride the last hour. Taking the escalator to the next concourse my carry-on suitcase fell back and caused me to tumble upside down. I quickly reversed my direction and continued on my way. We foraged for pizza during the interim between planes. Our friends, the Brooks, met us at the next gate. It's raining in Miami. Flight to St. Thomas was uneventful.
The Brooks joined us and others for a 30 min cab ride to Red Hook . $30 per couple. We are on time, 3:30pm, to board the Arabella. The crew greeted us and remembered us from to our cruise in December. We settle in our cabin 16, the largest on board. Debbie becomes captain in place of Sandy and lectures on the proceedings of the trip.
We sail into Caneel Bay, St. John for dinner at the Equator at Sugar Mill overlookinig the bay. The wooden structure is a modern version of an open umbrella with ribs of beams holding up the roof. The ruins of the sugar mills are silhouetted against the sunset. Wonderful meal of selected dishes similar to our first dining experience.