La Selva jungle and rainforest lodge is found in Ecuador's Primary Rainforest. The rainforest is a tropical garden of colorful blossoms, billowing ferns and giant trees which provide a green sanctuary for rare and exotic wildlife with intriguing insects, unique species of birds and butterflies and magical scenery.

La Selva was remodeled in May of 2013, and is now a high-end beautiful refuge for travelers wishing to experience the best of Ecuador. La Selva offers 18 beautiful and luxurious suites, which include three Scenic Suites with private views overlooking Lake Garzacocha, 12 Superior Suites, and three Family Suites. Both Scenic and Superior Suites include exclusive rainforest showers, private balconies and luxury bed linens with great panoramic views while the Family Suites include spacious bathrooms, hammocks and a Jacuzzi on a private porch.

Each of the suites at La Selva was designed to imitate the surrounding rainforest atmosphere. Environmentally constructed with bamboo from sustainable plantations, the open design allows guests to enjoy the sounds of the forest, as well as a genuine jungle experience in maximum comfort.

La Selva also offers its own restaurant, which features a delicious and unique quality of gourmet food. A gourmet chef uses as many ingredients as he can, such as herbs, fruits and vegetables which are always fresh before preparation, offering exquisite dishes native to the region. La Selva is able to accommodate special or vegetarian diet upon request.
Rooms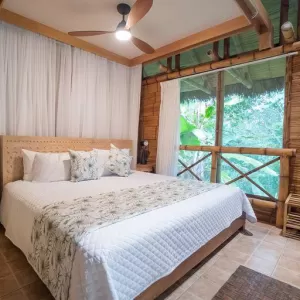 Family Suite/Superior Suite/Scenic Room
Activities at La Selva Lodge

Choose from the following activities at La Selva:

Hiking the Matapalo Trail: This trail was named after the Spanish Strangler Fig, one of many remarkable trees which are found during this short introductory walk. Your native and naturalist guides will start to share with you part of their knowledge about flora and fauna of the tropical rain forest.

Night Walk: A flashlight and a camera are the only things you need to enjoy all of the insects, amphibians, reptiles, birds and mammals that you might see during an hour walk in the darkness of the forest.

Night Canoe Ride in Garzacocha Lagoon: With the help of a spotlight, take out a paddle canoe in the lagoon looking for caimans, boas, bats, owls, night mammals and more nocturnal wildlife. If the sky is clear, you might have the chance to do some star gazing.

Chaguamango Trail: This trail begins at the lodge and finishes at the edge of the lake. At the end of the walk, head back to the lodge by canoe. If lucky, you might see big troops of squirrel monkeys approaching the water, allowing you to take great photos of wildlife.

Charapa Traoil: This trail lasts about one and a half hours, starts at the butterfly farm and ends on the edge of the lake. It's a wonderful loop that begins with a walk, returning to the lodge by canoe. Along the way we will try to sight different groups of mammals, monkeys and birds that in the afternoon hours get close to the lakeshore to look for food. Apart from a clear afternoon, you can also enjoy a beautiful sunset from the canoe.

Observation Tower: A 20 minute walk will lead you to the tower. This construction will allow us to be 120 feet above the forest floor to enjoy the canopy of the tropical rain forest. Observing with a telescope will enable us to see birds from the canopy, and maybe even monkeys or sloths.Your native guide will show you some of the medicinal plants that natives still use and the naturalist will provide information about the ecology and natural history as well.

Parrot Clay Lick: Visit the most biologically diverse spot on Earth, the Yasuni National Park. A 20 minute canoe ride plus a 15 minute walk will bring you back to the Napo River. A motorized canoe ride lasting 10 minutes will let you enjoy one of the most amazing displays of the wild world. Hundreds of parrots and parakeets will approach the treetops and later come down to a clay bank to eat the soil rich in minerals. It is essential to have binoculars to enjoy the experience.

Once you identify the different species of parrots and parakeets, your naturalist guide will provide a lot of interesting information about the behavior of these spectacular birds. The motorized canoe ride lasts approximately 30 more minutes of birdwatching along the river banks.

Butterfly Farm: Learn about the biology of the butterflies of the region. The farm will show you each of the different stages of the butterfly complemented with interesting information provided by your naturalist guide. You will not want to leave the butterfly flying area without taking your best photos of our colorful butterflies.

Sacha Hugra Trail: A unique experience - walk through an amazing section of primary forest for about 4 to 5 hours. You might have the chance to find the biggest mammals of the rain forest. A healthy rainforest makes you feel the energy of nature like no other place on the planet. The biggest and probably oldest threes of our resources can be found here, be amazed with their size and beauty.

Leoncillo Lagoon: A two hour canoe ride around Garzacocha Lagoon is where you will see birds and maybe a huge troop of the nomads of the forest. Disembark on one of the sides of the lagoon and try to spot the leoncillo, the smallest monkey in the world. The pygmy marmoset is one of the most exotic species of primates of Amazonia, and with some luck, you will also see it here at La Selva.
Spa

Following their innovative spirit, La Selva Lodge is building a new spa. This new and unique concept will blend the beauty and tranquility of the rain forest with the most relaxing therapies. Their new spa will transport you to a secret place where you will feel rejuvenated and in contact with your inner spirit.

During this reconstruction process they will continue to offer massage services in the privacy of your suite. Reflexology, Jacuzzi, facial massages and exfoliation will become available once again upon completion of the new facilities.

Inspired by the natural beauty and essence of the Amazon, indulge yourself with our innovative and traditional crafted treatments provided by our highly qualified massage therapist. Just like the Amazonian paradise, we realize that each guest that visits La Selva is very unique. We want to offer therapies tailored especially to your wants and desires. Our massages are designed to restore vitality, health and wellness. These treatments also activate the reflexes to help improve circulation and to infuse well-being, so that you, our exceptional guest can exit one of our massages re-energized and refreshed.

Complete Massage
Picture yourself, if you can, surrounded by vibrant vegetation, exotic birds singing a beautiful tune and a warm ambiance surrounding you as you lay relaxed while an experienced massage therapist helps to release all tension from your body. It is a mental, as well as physical reward that you must experience. La Selva Amazon Eco-Lodge & Spa opens its doors to you and invites you to make this a reality. At their eco-lodge you have the opportunity to relax, unwind and enjoy the peaceful settings while you are pampered from head to toe and well taken care of by their team. Always eager to please, they make themselves available to cater to your every whim. The Complete Massage includes a full-body massage with natural products such as scented oils and lotions that will leave you feeling rejuvenated and ready for your next adventure. They encourage you to be part of a once in a lifetime, relaxing experience at La Selva Lodge.
Reflexology
Reflexology, or zone therapy, is an alternative medicine involving the physical act of applying pressure to the feet, hands, or ears with specific thumb, finger, or hand techniques without the use of oil or lotion. At La Selva Amazon Eco-Lodge & Spa, they believe in the wisdom of nature, so it is only logical for them to apply such techniques and include them in their repertoire of all things needed to help you relax. Their expert team is able to pin-point stress accumulated zones and skillfully release all tension using this technique as you sit back and enjoy the enchanting Amazonian view. Just leave yourself in their trained hands and they will do their best to help you get rid of all stress, leaving you feeling brand new and ready for whatever is coming your way next.
Back and Shoulders
The most common stress areas, the back and shoulders, need special attention and they are there to render that attention to you at La Selva Amazon Eco-Lodge & Spa. They welcome you to be a part of this relaxing experience that is sure to leave you feeling revitalized after a fun day of adventuring. Sit back and enjoy the ever mesmerizing view of the Amazonian forest surrounding the lodge while a massage therapist takes care of your back and shoulders skillfully relieving the stress from these affected areas. Let the gentle heat and the beautiful tune of exotic birds relax your mind. They guarantee to leave you physically and mentally refreshed.
Hands and Feet
Two of the most over worked areas in the body, the hands and feet, require special attention. At La Selva Lodge they have prepared a satisfying massage concentrating on these main parts of the body. After a wonderful day of trekking around the Amazonian forest, reward yourself and your feet with a massage and you will be sure to wake the next morning ready for the next journey. As for your hands, what better way to treat them than a refreshing massage from one of their experienced massage therapists? If you're ready to sit back, relax, and put your feet up then this is the place for you. La Selva Amazon Eco-Lodge & Spa welcomes you.
Legs and Calves
After an invigorating day of trekking through the Amazon forest it is only fair for you to give your legs and calves a reward. Why not treat your legs and calves with a vitalizing massage? At La Selva Amazon Eco-Lodge & Spa, they have prepared a team of dedicated massage therapists that will make sure you walk out feeling relaxed and ready for your next adventure. All you have to do is sit back, put your feet up and enjoy your surroundings while one of their massage therapists pampers you.
Facial
It takes on the sun, wind, rain and anything that comes its way, so naturally your face requires the upmost attention. They know how delicate the face is and so they have dedicated this program to pamper and rejuvenate your skin so you can face your next adventure head on! With special organic oils and lotions designed to match your skin's needs you'll be sure to enjoy this amazing massage. La Selva Lodge invites you to be a part of this great experience.
Exfoliation
In addition to their special facial, they also offer you an invigorating exfoliation process that leaves your pores feeling brand new. Using all natural products, this massage will clear your skin, open your pores and help reduce any blemishes. Gentle but skilled in their craft, their massage therapists are here to listen to your concerns and cater to any of your needs. Just say the word and the experts at La Selva Lodge will be right there to take care of you.
Naturalist and Native Guides

Guides are a vital part of the team at La Selva Ecolodge. English-speaking naturalist guides accompany you on all excursions, and their expertise in finding and spotting wildlife can make or break the visit for you. That's why they hire the best guides in the Amazon! Every group is assigned not one, but two guides. The first is a bilingual English/Spanish speaking naturalist guide, who will be the group's leader, educate you about animals and plants and be responsible for the group's safety and enjoyment. The second guide is a native guide: a member of a local community who has grown up in the jungle. Although most of them don't speak English as fluently as our naturalist guides, their knowledge of the Ecuadorian Amazon is unparalleled.
Naturalist Guides
Not just anyone can be a guide at La Selva Lodge. All guides are licensed by the National Park.
This is a lengthy, demanding process which requires that the guides have professional-level knowledge not only about the flora and fauna, but also safety procedures and park policies.
The guides speak a variety of languages and have different skills according to their individual backgrounds. Some of the guides are great with children, other specialize in birdwatching groups, and other specialize in botany, herpetology or other scientific disciplines. Here are some of the prerequisites for being a naturalist guide at La Selva Lodge:
Official license and certification from the National Park
Degree in a discipline related to guiding in the Amazon: i.e. botany, herpetology, zoology, biology, environmental science, etc.
Basic first aid and emergency procedures
In-depth knowledge about the flora and fauna of the Amazon
In-depth knowledge about other aspects of life in the Amazon, including history, culture, politics, environmental management, etc.
A working knowledge of the rest of Ecuador, including the highlands, coast, Galapagos and more
Bilingual in Spanish and another language such as English, German or French
Must be good with people and have superior group managment skills
Guides often attend classes and conferences designed to keep them up to speed on new information such as park policies, emergency procedures and more
But perhaps the most important characteristic of the guides:
They must have a great love of the jungle and the Amazon rainforest! The environment is a very special one and the guides are passionate in their love for the Yasuni Biosphere Reserve and all of the people, flora and fauna that call it home.
Native Guides
In addition to the naturalist, each group is accompanied by a native guide: a young man or woman from one of the local communities who grew up on the very trails and rivers he or she now proudly shows to visitors. Their knowledge about the Amazon is not so much personal as ancestral: their families have been here for generations, living off of the forest, using medicinal plants and fishing in the rivers. What better guide could you ask for than one who can share generations of knowledge and traditions?
In addition to the knowledge they have accumulated over a lifetime in the rainforest, the local guides are given courses locally in useful skills like first aid, group management, ecotourism, guiding and more.
The native guides generally speak Spanish and Kichwa and most have mastered at least a few words of English (they may ask you to help them practice!).

Inquire
Everything was amazing! The planning with Adventure Life went smoothly. The actual trip was fantastic! One of the best trips I have experienced. The cruise staff members were knowledgeable and attentive. I will be writing more about this on the blog!
Justin Chappelle