When is the best time to visit Hungary?
 Spring and fall are the best time to go to
Hungary
, especially the months from April to May and from September to October. These shoulder seasons offer an enticing blend of warm weather, reasonable prices, blooming flora, and fewer crowds in tourist spots. Spring also sees wildflowers blooming across the country, while the grape harvest in autumn makes it the ideal season for wine lovers. Late spring showers are possible, so it's best to pack an umbrella if you're traveling in May.  
The country has a temperate climate, typical of the location in Central Europe. Summer's warm and dry weather from June to August is extremely appealing, but this is the high travel season and popular attractions may be packed, especially in
Budapest
. Hungary tours and hotels are also typically more expensive in the summer months. Meanwhile, the climate is cold and quite dreary in winter, but it's the cheapest time to go to Hungary. Spring and autumn are pleasantly mild, with occasional rain.
At a Glance
Best Time to Visit Budapest:
June-August
Best Time for a Danube Cruise:
April-October
Best Time for Cycling:
April-May, September-October
Best Time for Birdwatching:
January and February
Spring (March to May)
Best For:
Cycling tours
, food festivals, cherry blossoms, crowd-free attractions in Budapest
Events:
Independence Day (March), Orchid Festival (March), Cherry Blossom Festival (April), Budapest Spring Festival (April), Rosalia Festival (May), Gourmet Food Festival (May), Budapest Folk Festival (May)  
Spring is one of the best seasons for visiting Hungary, with the cold winter melting into more comfortable temperatures. April and May are fantastic for travelers, although March is a good option if you want to celebrate Independence Day with the locals.  
Balmy temperatures in April and May set the stage for festivals, especially in Hungary's capital Budapest, where locals celebrate the Cherry Blossom Festival on Margaret Island and the Spring Festival. Hungarians showcase their love for food and wine with events like the Rosalia and Gourmet Food Festival.  
The enchanting country blooms in spring, with cherry blossoms flourishing in Castle Hill and Gellért Hill. As the wildflowers burst in vibrant colors in the countryside after the cold winter, spring offers wonderful opportunities for outdoor exploration, whether on foot or on a bike along the Danube Bend. Some take the time to see beloved spots like Tihany and Sopron before everyone else arrives in summer.    
Spring can get pretty wet in Hungary, especially in May, which sees about eight days of rain on average. Pack an umbrella, just in case. Few travelers are on the road at this time, so there's plenty of elbow room at the main tourist spots. Keep an eye out for great deals.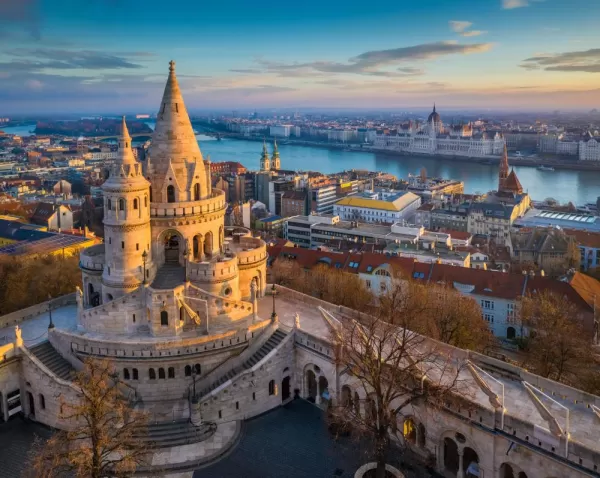 Summer (June to August)
Best For:
Music festivals,
city tours
, sailing, kayaking
Events:
Főzdefeszt Festival (June), Danube Carnival (June), Balaton Festival (July), Budapest Summer Festival (July-August), St. Stephen's Day (August), Sziget Festival (August)  
Peak tourist season starts in June, as spring makes way for the hotter and drier summer months. Summer in Hungary is mild, sunny, and pleasant, even in Budapest, where it's more humid than the rest of the country. Luckily, the country doesn't get scorching hot. Temperatures generally stay below 27°C (80°F), even in the middle of the season.  
With the country bathed in sunshine, this is a fantastic season for warm-weather activities in scenic Lake Balaton and Tihany's picturesque lavender fields. Some may find it too warm for cycling and hiking, but it's a pleasure to spend hot summer days sunning or sailing on the beaches of Balaton or kayaking along the Danube Bend. The UNESCO-listed Hortobágy National Park is also an unforgettable stop.  
Explore the folk traditions and wilderness of northern Hungary, a hilly expanse featuring hiking trails, Bükk National Park, and the traditional village of Hollókő, another UNESCO World Heritage Site). A river tour in the north can also be rewarding with views of sunflower fields, birds, and the occasional wild animal.  
Weather-wise, summer is the best time to visit Budapest, whether you're
cruising the Danube River
or flying straight to the city. Take a Hungary tour to marvel at the gorgeous architecture and visit the capital's hotspots like Buda Castle, City Park, Hungarian Parliament Building. Festivals further showcase the thriving art and music scene in Budapest; if you can only attend one, the Sziget Festival, which is one of the biggest musical festivals in Europe. St. Stephen's Day is also worth experiencing, with vibrant fireworks, music, and dancing.  
Expect high prices and plenty of tourists in popular tourist spots during the summer. Late August may be a good bet to avoid the worst of the crowds as summer nears its end.
Fall (September to November)
Best For:
Hiking
,
wine tasting
, cycling tours
Events:
Jewish Summer Festival (September), Budapest International Wine Festival (September), Oktoberfest (October)  
Autumn is relaxed and pleasant, with the weather comfortable enough for visiting main Hungary attractions. Smaller crowds at Budapest makes fall ideal for sightseeing in spots packed during the summertime, like St. Stephen's Basilica and Heroes' Square.  
Fall transforms the landscape into vibrant shades of red and gold, making it one of the best times for trekking. Hiking trails, alpine forests, and nature parks across the country are at their most beautiful during this season, particularly in the months of September and October. Whether you're cycling the National Blue Trail or trekking hills in Bükk, autumnal Hungary is perfect for outdoor recreation.  
The season also marks grape harvest season, with towns like Villány, Tokaj, and Eger hosting opportunities for tasting the fine wines of Hungary. Budapest International Wine Festival at the Buda Castle is a popular event this season.  
September and October feature summer-like weather with slightly cooler temperatures, but November can be rainy and misty with winter in the horizon. If outdoor activities are a priority, it may be better to book a vacation in early autumn. Prices tend to drop after summer, so you should be able to score reasonable deals on hotels and flights.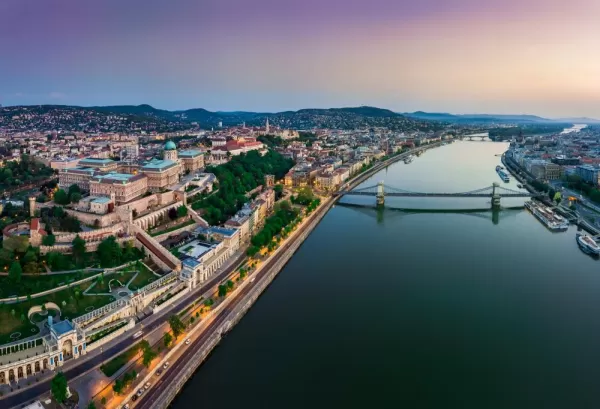 Winter (December to February)
Best For:
Thermal baths, ice skating, sledding, bird watching
Events:
Christmas (December), Busójárás in
Mohacs
(February)  
Budapest is a chilly wonderland in winter, with the city essentially free from tourists during the season. Christmas markets are a big appeal of visiting Budapest in December, as well as ice skating in Europe's largest outdoor skating rink at City Park. Outside the city, Lake Velence offers a beautiful natural rink. Skiing and sledding are also possible in areas like Normafa.  
Another excellent activity during the season is indulging in the historical thermal baths—Budapest has over a hundred of them! Chief of these unique attractions is Széchenyi Bath, one of the biggest and most popular natural baths in Europe. It's also a good time to visit the Castle District in Buda and other cultural attractions in the city.  
Birders on the lookout for owls and eagles will discover that these birds are easier to spot when trees are bare during January and February.  
Wintertime is the low season in Hungary, which means dramatically lower costs. However, it's best to stick to bigger cities as smaller accommodations in more remote areas tend to shut down in these months.  
For more information about the best time to visit Hungary and the Danube river cruises passing by Budapest,
contact one of our Adventure Life travel experts.