When is the best time to travel to Laos?
The best time to visit
Laos
is during the dry season, which begins in November and lasts through April. In particular,
November to January
is an exceptional time to go, with the most comfortable weather and ideal conditions for river cruises, kayaking, and other outdoor pursuits. However, these months are also the high season for tours in Laos, so be prepared for heavy crowds and higher prices.  
A tropical country in
Southeast Asia
, Laos has two main seasons: wet (May to October) and dry (November to April). While the dry months make up the most popular tourist season, the wet season features the country at its lushest and most vibrant. Off-peak shoulder months
July and October
are also good options with fairly mild temperatures, moderate rainfall, emerald green landscapes, and fewer travelers around.  
On the other hand,
April
is a time of year to avoid due to the high temperatures, crowded hotels, and peak rates of the Lao New Year (Pi Mai) celebrations. If you're planning to join the holiday revelry, make sure you book early. Heavy rains also make traveling in
August
difficult, with dirt roads becoming virtually impassable in the wettest months of the year.  
Keep in mind that there are also slight regional nuances to Laos weather, with southern regions typically hotter any time of the year. High altitude areas are found in the northern, central, and eastern regions; these destinations have colder climates.  
At a glance
Hottest Month:
April
Rainiest Month:
August
Peak Tourist Season:
November to March
Best Time to Cruise Mekong River:
November to January  
Wet season (May-October)
The wet monsoon season in Laos falls from
May to October
, a period also dubbed the "green season" when the rains bring the landscape to life after a long drought in previous months. Expect high humidity throughout the country.  
The early weeks of the wet season are still sweltering, with rainfall coming in short spurts at night and early morning. Lush foliage emerges and majestic waterfalls once again flow freely by July. As the rainy season continues into August and September, the downpours get heavier and more frequent. Traveling to remote regions can be a challenge during this time with many roads impassable. October is significantly drier and an excellent time to visit Laos with mild weather and flourishing landscapes before the tourist rush of the dry season.  
During the wet season, key festivals in Laos include the Lao Rocket Festival (May, June, and July) and the Boun Ok Phansa's Lai Heau Fai (Festival of Lights) & Boat Racing Festival (October).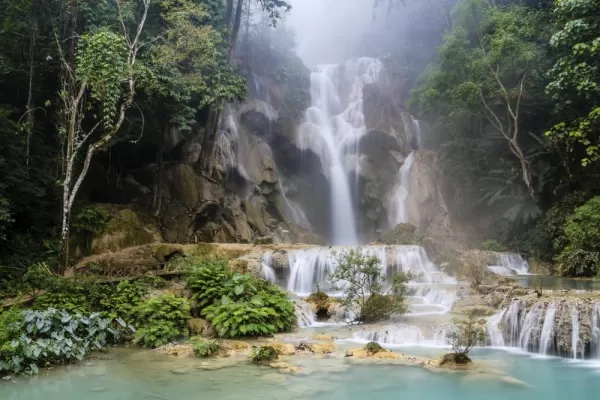 Dry season (November-April)
The dry season in Laos spans from
November to April
, with the cooler temperatures of the rainy season gradually increasing every month until the hot season peaks in April. Average temperatures in
Vientiane
go from the low 70s (Fahrenheit) in January to the mid-80s in April. Further south, temperatures in April can spike as high as 100°F (37.8°C). If you're looking to avoid the worst of the heat, milder months between November and February are the best time to visit southern Laos. When the heat gets too high for comfort in the south, travelers can cool down in high-altitude destinations like the Bolaven Plateau.  
Meanwhile, northern regions cool down and even approach freezing temperatures at higher altitudes. Watch out for slash and burn agriculture in and around
Luang Prabang
, which usually results in smoke-filled skies starting March until the monsoon season begins in May.  
Clear skies and sunshine make
land exploration
and active outdoor recreation like
hiking
, rock climbing, and
cycling
ideal throughout the dry season. But river tours and cruising are best experienced between November and January when the water levels on the Mekong River are at their highest. Other water activities are also recommended, including whitewater rafting and kayaking tours in Vientiane, Luang Prabang, and Luang Namtha. February may still be suitable for water-based adventures, but water levels are usually too low for river travel when March and April roll around.  
The dry season in Laos also includes many significant cultural events, including the That Luang Festival (November), Wat Phou Festival (January/February), and Lao New Year (April).  
Learn more about the best time to visit Laos by contacting our
Adventure Life travel experts
.