Namkhan eco farm or Namkhan project is a mission or one can say that an effort doing by Namkhan eco farm to spreads out the advantages of Permaculture farming techniques, as well as organic farming of fruits, vegetables, and herbs. Namkhan eco-farm is parallel to Namkhan River as well as to Namkhan village. Namkhan eco farm includes different kind of workshops, education and learning centers, volunteer's activities, and housing facilities, especially for tourists.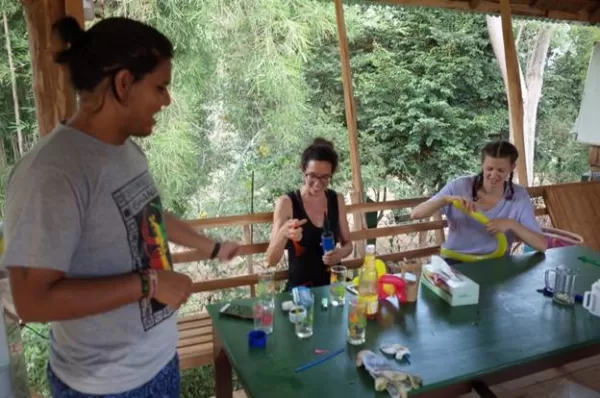 Namkhan project:
Namkhan eco-farm is located in Luang Prabang that is significance city of Laos's country, Southeast Asia. Luang Prabang has been added to UNESCO world heritage and culture sites, and that fact makes it more attractive and important insight of tourism and historical views. Namkhan eco-farm is situated 5 km away from Luang Prabang, and you can reach with ease. 
Making our environment clean and introducing the world with organic food, which is free of heavy chemical spraying, several countries give their contribution and install a tremendous eco-farm in Luang Prabang, Laos, named Namkhan Eco-farm. Now day by day the popularity of Namkhan eco farm has been increasing and it is becoming the top tourist place for tourists. If you also want to become a part of Namkhan project then you are most welcome here.
Namkhan project believes that the people who have true passion and guts for doing something positive for our environment, with rapid learning ability they must visit in Namkhan eco farm once.
What we offer to our volunteers in Namkhan Eco Farm:
We want to let you know some basic facilities that we offer to our valuable volunteers, so it would be easy for you to decide that why you must choose the Namkhan Eco farm for volunteering:-
Free accommodation:
We provide our volunteer's free accommodation space. Nature has gifted with precious beauty to Luang Prabang, and place like that with a comfortable accommodation what else anybody's can want. Our volunteer's lives in a cozy bungalow, 4 people can easily live in 1 bungalow, with their personal space.      
Free food:
Namkhan eco farm has expertise in organic food production, so we serve three times food in a day to our volunteers, which includes breakfast, lunch, and dinner. Also if you like to have tea or coffee that is also available in the morning time. With that wine, beer and soft drinks with some tasty snacks are available also. You will fall in love with natural Laotian food like homely comfort.
Another basic service:
Laundry service is also available at a cost-effective price, or you can wash your clothes by yourself. You can also hire bicycle or motorbike for hanging around Namkhan village and farm.
Do volunteers need to pay to Namkhan for staying?
Several volunteering institutes and organizations take charges for their service for volunteering job. But we do not charge any single penny from our volunteers, but if you want to contribute something to our eco farm then we will be highly grateful for that. We do not use your money for our personal benefits, but we also donate this to other learning and needy institutes. There are many people waiting for your little help, we never force anybody for that but your one step can help many people.
These all facilities and services make Namkhan Eco farm as the
best place for volunteering
. So whenever you think about doing something new and interesting for nature and biodiversity, then must visit in Namkhan eco farm and feel the wonderful experience of farming techniques and organic food production and beauty of nature.