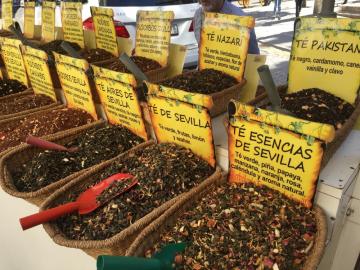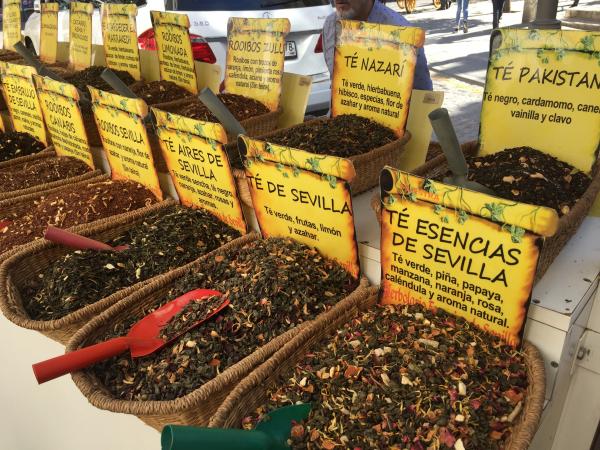 We drove from Salamanca to Sevilla, which was about a four hour drive. We stopped in the little town of Caceras on our way, which was a perfect little break. It was an old, country-side town with a simple but beautiful plaza and a pretty spectacular church. We climbed to the top of the bell tower just in time for noon, when all the bells in all the churches in town chimed and sang.
A couple hours of country driving later, and we had arrived in Sevilla. We had programed the directions into our phone and had a pretty clear path. Until we turned off the main road and immediately were stopped by hundreds of people in the street. It was a very narrow, one way street with barely enough room for a vehicle, let alone pedestrians. And imagine hundreds of people walking toward you, against you, across you. We even had a waiter with a tray full of coffee and deserts walk across the street to a table of people across the way. What had we done? About a block later, we saw a barricade and a nice policeman directing traffic away from the center of city and back out to where we came from. We found a spot to pull over, found an alternative route to our hotel and tried again. This time we were able to follow cars and directions to the hotel but we were driving in the narrowest one-way route through Sevilla! Luckily it ended right at our hotel and we could ditch the car for a couple days.
We visited the cathedral, which is the largest cathedral in the world and houses Christopher Columbus's tomb. Then we walked across the plaza to spend a couple hours in the Alcazar. The Alcazar is a royal palace that was originally built for Moorish Muslim kings. The palace is still used by the royal family, but most of the palace and grounds are open to the public. The buildings are beautiful, with intricate Moorish tiled walls and carved ceilings. The surrounding grounds go on for acres, and are one of the most peaceful places to relax, especially after a busy day in bustling Sevilla.
In the evening, we walked along the river and ended our evening in the Plaza de Espana. Unlike most plazas in Spain, this plaza was not a square or rectangle, but instead was a large half-circle of buildings with fountains and walkways in front. It was built in the 1920s for the World's Fair in 1929. Each Spanish province is represented in the tiled Provincial Alcoves, and the complex now houses government offices.
We once again were exhausted from so much walking so we made our way back to our hotel for a glass of wine before bed.