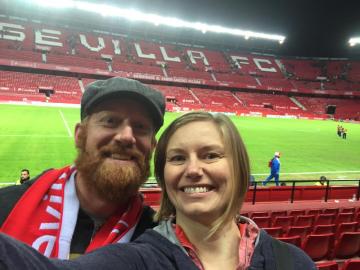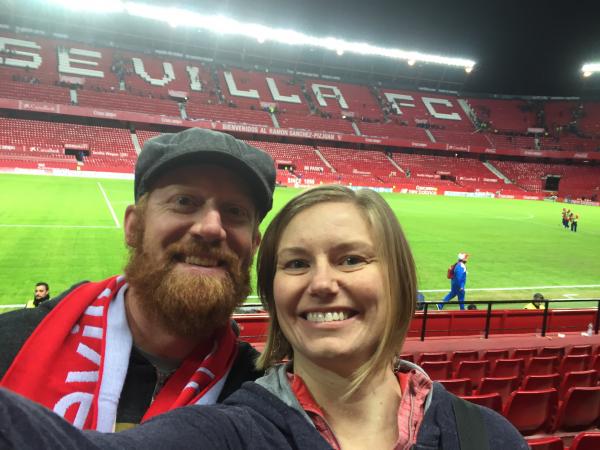 It was futbol time! We scored some great tickets to the Sevilla vs Barcelona soccer game while we were in Sevilla. We couldn't figure out the bus system so we decided to walk the 30 minutes to the stadium. As we got near, the crowds picked up and by the time we got to the stadium, the streets were filled with soccer fans. We had a little time to spare and wanted to grab a beer (what sporting event would be complete without at least one beer?). But of course all the bars were packed with lines out the door. Lucky for us, we saw a little Dominos that sold big beers for a euro! Best cheap beer I've ever had!
On our way in we each bought a soccer scarf (me Barcelona and Evan, Sevilla) and found our seats. We were just off the center line and pretty close. What great seats! Before the game started, all the fans were up on their feet singing the Sevilla song. It was incredible to hear 70,000 people sing in unison, both Barcelona and Sevilla fans singing the same song. I cannot even describe the energy in that stadium for 90 minutes straight. The first score went to Sevilla and the crowd erupted! They jumped, screamed and sang for at least 2 minutes straight! Right before the half, Messi scored for Barcelona, tying it up. We discovered later that this was Messi's 500th goal scored for Barcelona! The second half was back and forth for a while until Barcelona scored a second goal to carry them to a win. I secretly was rooting for Barcelona but was sad to see the home team lose. This was only my second professional soccer game, and I couldn't have asked for a better experience
The walk back to our hotel was full of energy and excitement as the whole city seemed to either be at the game or certainly watching it!