Waking up to a misty blanket over Table Mountain set a daunting tone on our first full day in Cape Town.  On the docket for today was the cable car ride up Table Mountain. Our delightful German hosts at Abbey Manor gave us the bad news that they didn't think the cable car would run, but we still had high hopes for the day.
After finishing up our breakfast we met our guide, Abdul.   Abdul was absolutely charming! Born and raised in Cape Town, he was truly a proud Capetonian.  Not surprising once you have been there, but South Africans are extremely prideful.  We whisked up to the base of Table Mountain, and while we the views were fantastic from the cable car base, we never saw the view from the top.  The wind was too strong for the cable cars to go up. Cape Town weather changes extremely quickly, and often in the spring time the high winds prevent tourists from hiking or riding up the mountain.  Sadly, we didn't have another chance to get to the top, but you won't have to twist my arm to go back.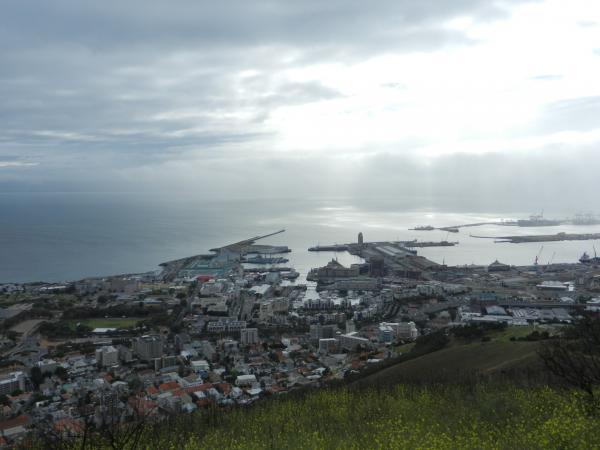 After visiting Signal Hill and heading back into town to see the Castle of Good Hope, Abdul decided to take us off course.  It happened to be a Saturday and so he recommended that we stop by the Old Biscuit Mill Market. If you happen to be in Cape Town on a Saturday, this is a must do. The market ended up being my favorite experience while in Cape Town, so when you have the chance, I recommend taking a detour.  The Old Biscuit Mill Market unsurprisingly used to be a functioning biscuit mill. The mill is in the industrial Woodstock neighborhood of Cape Town and now houses countless food vendors and artisans every Saturday. The market was a great example of the strong sense of community and foodie culture growing in the city. In the center of the old brick building, there is large community table where everyone can devour their goodies.  My boyfriend Sean and I enjoyed a delicious cup of coffee and salivated over the countless options.  The founders of the market strongly support the local-organic, or "loganic," food movement in South Africa and have turned this community market into a Capetonian institution.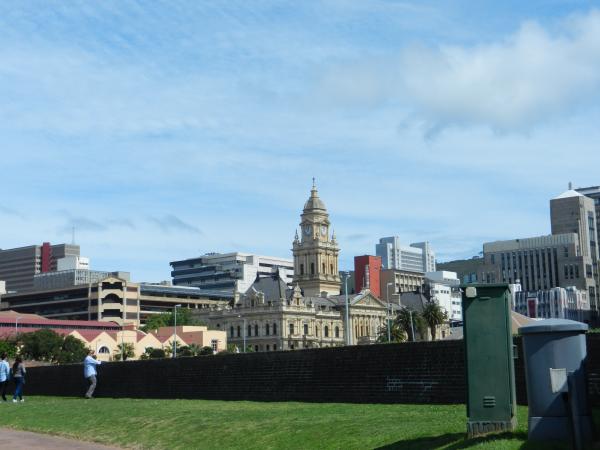 We didn't have the chance to spend as much time as we wanted to in the market because we needed to catch our ferry to Robben Island from the waterfront.  Sadly, not two minutes after lining up in the queue, the ferry departure was canceled!  We both looked at each other and laughed.  Thankfully, we re-booked our tickets for later in the week and decided to spend the rest of the afternoon walking the waterfront. Most of the day didn't turn out how it was supposed to, but when you travel that really is part of the adventure!