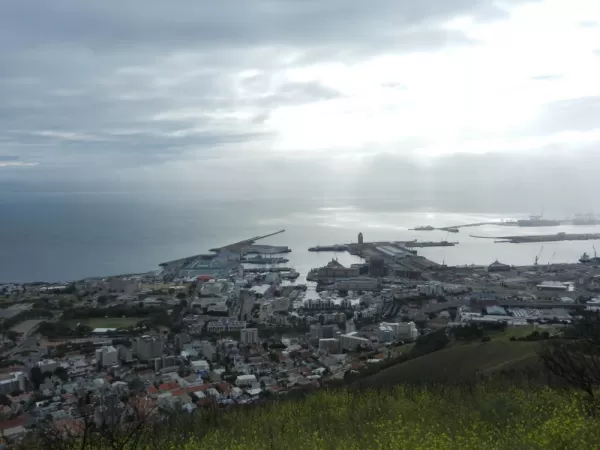 I'm going to Africa! That's right, Africa. When the opportunity arose, I couldn't turn it down. How often does the chance to see lions in the wild really come up after all? It's a big continent, so where am I going? Well, South Africa and Tanzania to be exact. Two totally different countries, more than a day's worth of travel away.
What many people forget about Africa is that it is an incredibly complex continent made up of many countries that often don't have very much in common at all. We began the long haul over on an early morning in September. After first making the flight to Minneapolis, we flew to Amsterdam. Sadly there was no time for tulips, but we did enjoy a beautiful sunrise at the airport while waiting to board. After many hours of anticipation, we finally started our trip south on a direct flight to Cape Town.
Not surprising with its Dutch history, we learned that South Africa is a common destination for many Dutch travelers. I also don't think it hurts that the time change is only an hour! For Americans, traveling almost anywhere in Africa is a bit more complicated. Many things contribute, but part of the challenge is the shear distance you have to travel to get there. Additionally, many Americans view Africa, and particularly safari, as the trip of a life time. Well, let me tell you, that is exactly what it is.
So after about a dozen movies, a few books, a countless number of airplane meals, and some delicious caramel waffle cookies, we arrived in Cape Town International Airport around 10 PM. The Cape Town airport is relatively small making it very easy to navigate. This was lucky for us since we felt more like zombies than humans after the trip. We quickly found our ride and it was only a short 25 minute drive to our guesthouse, granted that might be because driving around Cape Town at night felt like being on a race track.
The first thing I noticed in Cape Town was the air. Growing up in Southern California, I have always loved the feeling of coastal cities. Much of this is due to the moist, salty air that instantly makes my skin feel hydrated, but also because the relaxed vibe that comes with being by the sea. In this regard, Cape Town certainly did not disappoint. Despite the excitement of our arrival, after checking in and a quick shower, I was fast asleep between the fluffy sheets.